ingredients
Flour

500 grams

Butter

175 grams

• 717 kcal

Sugar

165 grams

• 470 kcal

Milk

50 ml

• 49 kcal

Egg

1

• 130 kcal

Vanilla Extract

1 teaspoon

Baking powder

1 packet

• 156 kcal

Ricotta cheese

300 grams

• 140 kcal

Icing sugar

150 grams

Chocolate drops

100 grams

Icing sugar
Calories refers to 100 gr of product
These delicious shortcrust pastry cookies with ricotta cream filling can be enriched, for an even tastier version, with chocolate drops. The most famous are prepared in Sicily, but everyone can prepare it. Traditionally enjoyed at breakfast, freshly baked and still hot, they are perfect for cheering up any moment of the day. So let's see how to prepare them perfectly.
How to prepare the cookies with ricotta cream and chocolate drops
Prepare the shortcrust pastry: in a bowl collect the flour, baking powder and butter into small pieces and knead with your fingertips to form large crumbs (1).
Add vanilla, egg, milk and sugar and mix again. Transfer everything to a work surface and continue until you will have obtained a smooth and homogeneous dough (2). Wrap it in plastic film and let it rest in the refrigerator for half an hour.
Roll out the dough into a sheet a few millimeters thick and, with the help of a glass, make many small disks (3).
Whisk the ricotta cheese with the icing sugar until you will have obtained a homogeneous cream (4).
Add the chocolate drops (5) and mix gently.
Place a teaspoon of filling on half of the disks (6).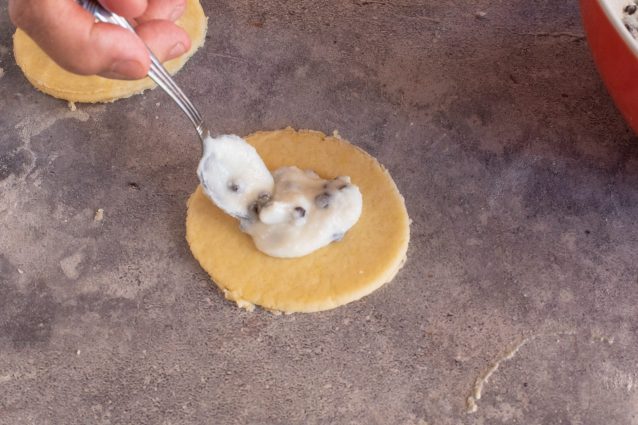 Cover with a second disk and press the edges firmly to make them stick (7).
Arrange the cookies on a pan lined with parchment paper (8), and bake at 180 degrees C in a ventilated oven for about 15 minutes.
After the cooking time has elapsed, take the cookies out of the oven, sprinkle with icing sugar and serve hot (9).
Preservation
The cookies with ricotta cream and chocolate drops, being particularly delicate due to the presence of ricotta cream, can be preserved in the refrigerator for a maximum of 3-4 days in a special container with an airtight seal.