ingredients
Bananas

3

Butter

90 g (3 oz), softened at room temperature

• 717 kcal

Eggs

3

• 130 kcal

All-purpose flour

165 g (1 1/3 cup)

Baking powder

1 tsp

• 156 kcal

Baking soda

1 tsp

Cream Cheese

100 g (3 ½ oz)

Powdered sugar

30 g (1/4 cup)
Calories refers to 100 gr of product
What do you get when you combine banana bread with a cream cheese? You get a Cream Cheese Banana Bread, of course! You should definitely try this recipe with a twist.
The banana flavor gets even sweeter thanks to the cream cheese layer. This dessert is so sweet, moist and tangy that you just can not resist it. Banana bread gets even more delicious: it is the perfect combination of banana flavor and creamy texture.
To make the taste even more irresistible, you can add a frosting, a topping or chocolate chips. Follow our recipe and you will not regret it!
How to store and freeze cream cheese-filled banana bread
Banana bread can be stored up to 3/4 days if you keep it in a food bad at room temperature. But you must resist! Otherwise, you can freeze in slices or the whole loaf up to 3/4 months. Wrap it in aluminium foil or in several layers of plastic wrap and thaw it one night before.
Instructions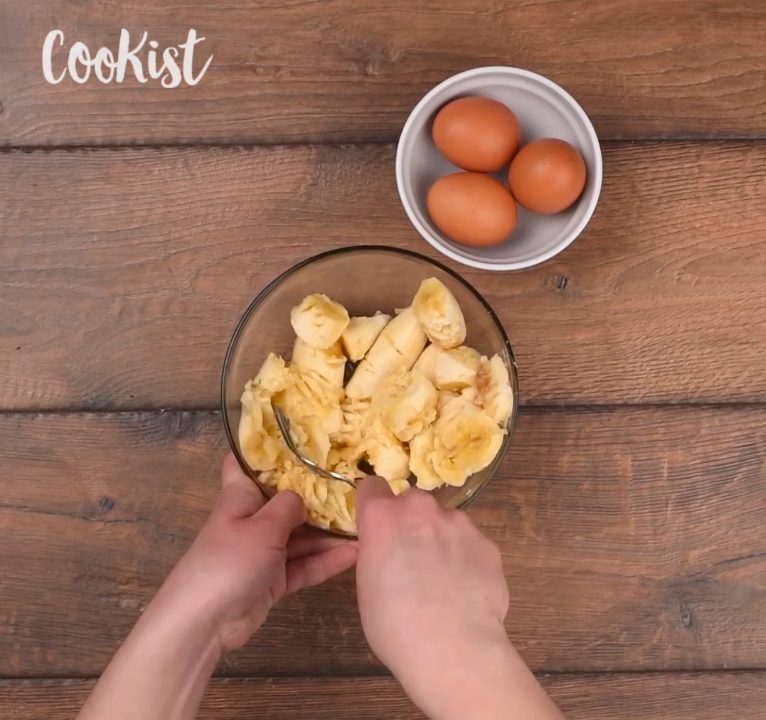 In a small bowl, mash the bananas with a fork or an electric mixer.
In a separate bowl, beat the butter and sugar with a mixer until well combined.
Whisk two eggs in a small bowl and add to the butter-sugar mixture. Mix the mixture until frothy.
Add the mashed banana and mix well.
Place a medium sieve over the bowl and sift the flour, baking powder and baking soda. Mix well with the electric mixer.
Separate the remaining egg, and set the yolk aside. In a small bowl, mix together the cream cheese and powdered sugar. Add the egg yolk and whisk well. Add the flour and mix until well combined.
Pour half of the banana-mixture into a greased loaf pan. Using a spoon, top with half of the cream cheese mix.
Use a spatula to flatten out the cream cheese in the center of the banana mixture.
Add the rest of the banana mixture to the loaf pan.
Add the remaining cream cheese mixture on top. Use a toothpick to create a marbled effect. Bake at 180°C/350°F for 40-45 minutes or until a toothpick comes out clean (note that it might look a bit moist because of the cream cheese filling). Cool for about 10 min before serving.
Notes and Tips
Remember that ripe bananas have a better flavor. As they ripen, the starches convert to sugar, meaning they become sweeter over time. Wait until your bananas are a bit spotty, otherwise you could bake them at 300°F/150°C until they become brown.
To make sure that the banana flavor is evenly distributed, the bananas should be mashed separately.
Do not over mix the batter. If you mix too much, gluten will develop and you will end up with chewy loaf.
Grease your loaf pan with oil or butter to make sure the bread comes out clean.
You can create different version of this recipe by adding coffee, frosting, chocolate chips or cinnamon topping to the banana mixture.