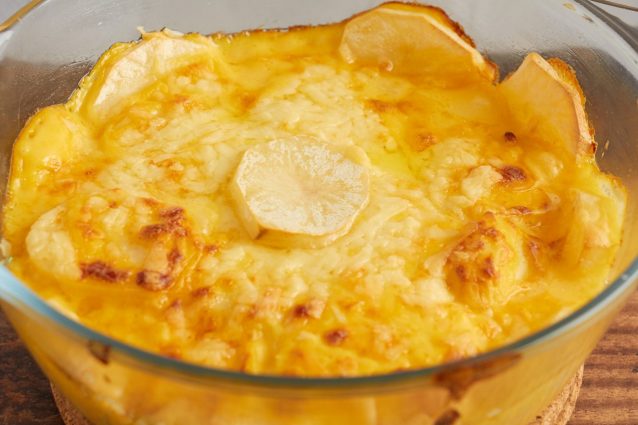 ingredients
Butter

1 tablespoon

• 717 kcal

Minced garlic

1 tablespoon

Plain flour

1 tablespoon

hot milk

1 cup

Salt

½ teaspoon

• 1 kcal

Pumpkin puree

¼ cup

Shredded sharp cheddar cheese or cheese of your choice

2 cups

Russet or other waxy potatoes

3 large, cut into ¼-inch thick slices (3¾ cups ¼-inch sliced potatoes)
Calories refers to 100 gr of product
What better kind of comfort food is there than melted cheese and tender potatoes? The addition of pumpkin puree takes this simple gratin and adds a delicious new dimension to it. This dish is perfect as a side to roast meat, and if you're looking for something a bit different this fall, why not give this gratin a try?
Instructions:
Preheat oven to 350F/160C fan/gas mark 4. Butter or grease a large oval or round casserole dish.
In a medium saucepan, melt butter over a medium heat. Add garlic, cook until soft and fragrant, 1-2 minutes.
Whisk in flour. Cook 1 minute. Slowly whisk in milk. Add salt. Bring to a boil and reduce to a simmer until thickened, about 3-4 minutes. Remove from heat and whisk in pumpkin puree. Season to taste with salt and pepper.
Layer half of the potatoes in the bottom of the prepared dish.
Pour half of the sauce over.
Cover with half of the cheese.
Repeat for next layer.
Place on a rimmed baking sheet and pop in the oven.
Cook until potatoes are fork tender and top is golden brown, about 1 hr to 1hr 15 minutes. If the top starts to get too brown, cover with foil and remove a few minutes before the potatoes are done cooking.
Notes:
If you don't fancy waiting around for the time it takes raw potatoes to cook in the oven, try parboiling them for 5-7 minutes first, then cooling them down before using them in the dish. This way, the cooking time will be cut to around 20-30 minutes in the oven, depending on the thickness of your potatoes.
This means you can prepare the potatoes the day before, then just add the sauce and cheese when you're ready to cook.
The simple white sauce used in this recipe is easy and quick to make, but if you prefer you can buy white sauce ready made and use that instead.