ingredients
for the cake

Eggs

4

• 130 kcal

Sugar

150 g (1 cup)

• 470 kcal

Milk

150 g (1 cup)

• 49 kcal

Butter

150 g (1 cup)

• 717 kcal

flour, sifted

375 g (2 1/2 cups)

Baking powder

2 packets

• 156 kcal

vanilla sugar

1 packet

Milk

3 tbsp

• 49 kcal

Cocoa

25 g (2 to 3 tbsp)

Pitted cherries

300 g (2 cups)
for the custard

Flour

3 tbsp

corn or wheat starch

3 tbsp

vanilla sugar

1 packet

Sugar

150 g (1 cup)

• 470 kcal

Milk

1 liter (35 oz)

• 49 kcal

Butter

100 g (0.7 cup)

• 717 kcal

for the ganache

Liquid cream

1 can (200 ml)

Dark Chocolate

160 g
Calories refers to 100 gr of product
If you're German, changes are you'll know the popular "Snow White Cake" (also known as the Danube cake). The name Donauwelle (pronounced Do-nau-wel-le) comes from the combination of two words: donau (a river) and welle (the German word for wave)—probably named after it's marbled, wavy appearance.
Also popular in Austria, this easy dessert recipe consists of layers of sponge cake, vanilla pudding, creamy chocolate ganache, and fresh cherries. This cake is fruity, moist, and super tasty—just the dessert you need to impress! With a few simple ingredients, and some layering, you'll have a delicious dessert in no time. Want to try something new? Then try this recipe for the Best Donauwelle.
How To Make Donauwelle
There are five layers to make in this cake:
Vanilla sponge: To make the vanilla sponge, the ingreduients are whisked together to form a batter. Two thirds of this batter is poured into the tin.
Chocolate sponge: The remaining batter is mixed with cocoa powder to create the chocolate sponge and poured on top of the vanilla batter.
Pitted cherries: The cherries are then pressed into the cake batter and baked until cooked through.
Vanilla pudding: The pudding ingredients are cooked until thickened and poured on top of the baked cake. The cake is chilled while preparing the chocolate ganache.
Chocolate ganache: The chocolate ganache is made by melting the chocolate in cream. This is poured over the cake and chilled on final time.
Tips For the Best Donauwelle
As with most cakes, it's best to use all ingredients at room temperature.
Make sure the cherries are dried of excess moisture, otherwise it will make the cake soggy.
Cool the cake down before adding the pudding layers.
To make this cake vegan, use vegan substitutes for the ingredients. For the cake batter: use cornstarch to thicken, and vegan butter. For the pudding: use cornstarch to thicken, vegan butter, and plant-based milk. For the chocolate ganache: melt vegan chocolate in coconut oil.
How To Store Donauwelle
The Donauwelle will keep in the fridge for up to 3 days, just make sure to store it in an airtight container. Allow to come to room temperature before serving.
Instructions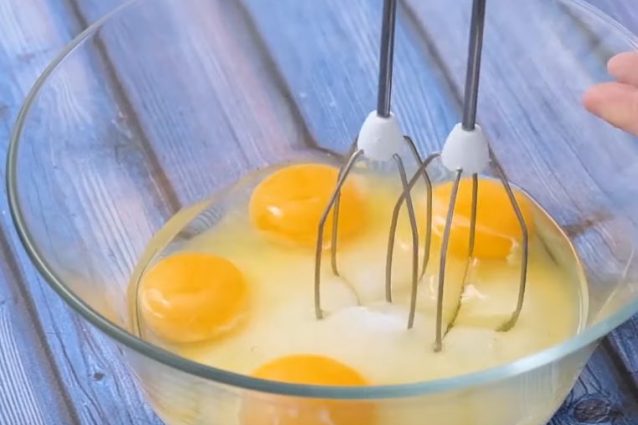 Add the eggs and sugar to a glass mixing bowl, and beat with an electric whisk until smooth.
Add milk and butter, flour, baking powder and vanilla.
Whisk again.
Pour two-thirds of the cake dough into a square baking pan.
Add milk and cocoa to the remaining dough and beat.
Pour the cocoa dough onto the dough.
Place strained cherries on the dough, slightly pressing on it. Bake in the oven at 180 ° C / 350 ° F for about 30 minutes.
Mix the flour, starch, vanilla, sugar and milk for custard. Cook until thickened.
Add butter to the mixture and stir. Pour the custard over the cake and chill.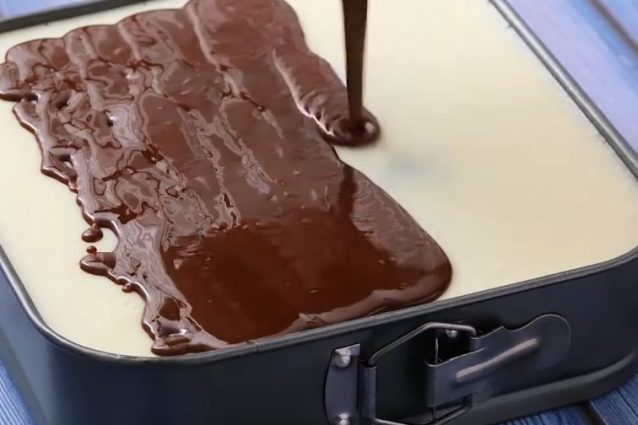 Combine the cream with dark chocolate and cook the ganache. Pour on the cake as the last layer. Cool.