Are you always on the lookout for a quick and easy breakfast that hits the spot? These Egg White Muffins are just what you've been looking for. It's an easy-to-make, healthy, high in protein, breakfast muffin recipe made with egg whites. The texture is a combination of spongy and fluffy and has all the flavor of an omelet in a muffin.
Because they're made in a muffin pan, they're like mini frittatas and easy to portion out. They're also easy to customize as you want to your taste. With eggs, cheese, tomato, and ham, you can easily make these Egg White Muffin Cups. They make a satisfying breakfast or you can even pack them for lunch. They're low-calorie too!

Egg White Muffin Ingredients
Egg white – separate your own eggs or buy egg whites from the store.
Cherry tomatoes – these work better than larger tomatoes. They have more flavor and release less moisture.
Cheese cubes – use cheddar, Monterey Jack, or Swiss cheese.
Ham cubes – use cooked ham.
Seasoning – don't forget the salt and pepper!
How To Make Egg White Muffins
This recipe is so quick and easy to make (and works great for times when you're making breakfast for a crowd). Chopped ham, cheese, and tomato are added to the holes of a muffin pan and then topped with the egg white. Bake it until cooked through and enjoy!
Egg White Muffin Cups Variations
Want more meat? Add sausage meat, chopped hot dogs, smoked chicken breast, cooked bacon, smoked salmon, or tuna.
Make it cheesy by adding feta cheese, goat's cheese, cheddar cheese, Swiss cheese, or gruyere.
Need more nutrients? Add more veggies: wilted spinach, steamed broccoli, roasted red peppers, sweetcorn, cubed carrots, caramelized onion, etc. The possibilities are endless!
The Egg White Muffin Cups are so easy to modify according to your liking.
Try one of the following combinations:
red pepper and feta cheese
mushroom and mozzarella
spinach and feta
bacon and cheddar
broccoli and cheddar
Tips
To prevent them from going soggy when reheating, place them on a paper towel while microwaving.
If they look flat, don't worry. Immediately after coming out of the oven, they will be puffy, but will then start to deflate and go flat. This is completely normal.
To prevent these from sticking, grease the muffin holes with butter, or spray them with cooking oil spray.
To make them better for keto, use whole eggs instead of egg whites only.
For those who are lactose intolerant, you can leave out the cheese cubes.
How To Store Egg White Muffins
The Egg White Muffins will keep in the fridge for up to 5 days. 
How To Reheat Egg White Muffin Cups
Reheat them in the microwave for 30-second increments using a paper towel.
Instructions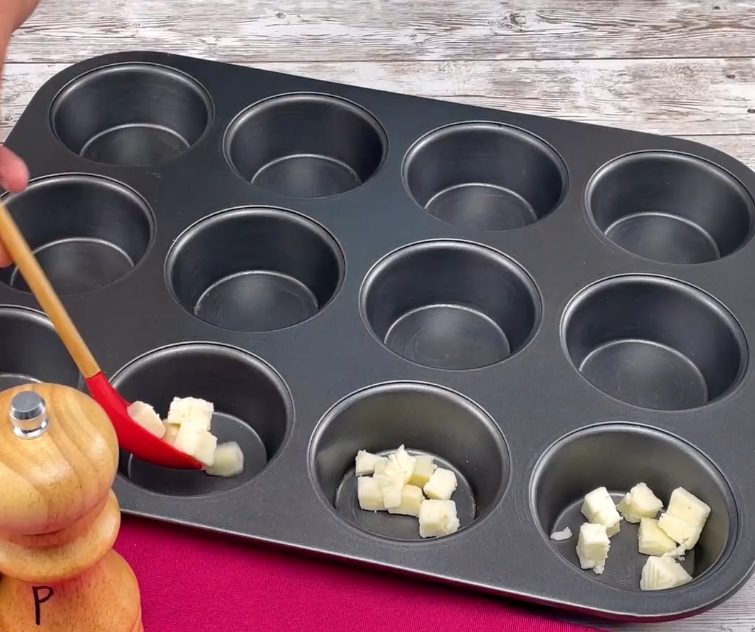 Divide the cheese cubes equally between the 12  muffin holes.
Divide the cheese cubes equally between the 12  muffin holes.
Repeat the process with the ham.
Divide the cherry tomatoes in the same manner.
Repeat the process with the ham.
Top with the egg whites.
Season with salt and pepper.
Divide the cherry tomatoes in the same manner.
Bake at 180°C (356°F) for 20 minutes. Serve and enjoy!
Notes
Make them ahead of time, by chopping the filling ingredients (in this case the ham, cheese, and tomato). Store it in the fridge until you're ready to bake them.