ingredients
Eggplants

800 grams

Egg

1

• 130 kcal

Dried tomatoes

40 grams

Provolone cheese

80 grams

Breadcrumbs

4 tablespoons

Potato flakes

Extra virgin olive oil

Tomato puree

200 grams

Basil

1 tuft

Extra virgin olive oil

2 tablespoons

Salt

• 1 kcal
Calories refers to 100 gr of product
The eggplant flan is a soft and appetizing savoury pie made with eggplants, the queen vegetables of Mediterranean cuisine, eggs and provolone cheese, to give the delicate dough something more. Very simple and super fast, it is ideal to serve as a refined appetizer on the occasion of a summer dinner; you can also prepare it in advance, freeze it and cook it only when ready to serve. Combined with a fragrant tomato sauce, it will reveal its stringy, melting and absolutely irresistible heart at the moment of cutting. So let's see together how to prepare the eggplant flan in the best way.
How to prepare the eggplant flan
Wash the eggplants, arrange them individually in aluminum foil and prick them with a fork (1).
Wrap them with aluminum foil, place them in a baking tray and bake at 200 degrees C for about 50 minutes. Once cooked, take them out of the oven, let them cool and extract the pulp with a spoon (2).
Collect the pulp in a bowl and mash it with a fork, then add the potato flakes, the dried tomatoes, finely chopped, and the egg (3).
Scent with basil, stir in the breadcrumbs (4) and mix until the mixture is compact but soft, with a consistency similar to that of meatballs. Season with salt.
Grease the molds with a drizzle of oil and fill them for ⅔  with the mixture. Stuff them with provolone cheese, cut into thin slices, and complete with the remaining dough, filling it up to the edge (5).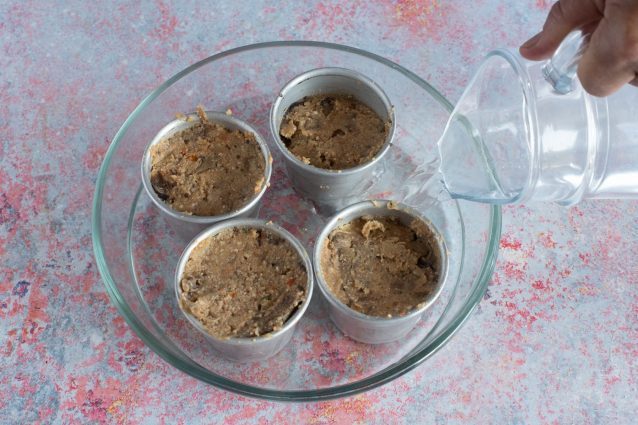 Place the molds in a pan suitable for cooking in the oven, pour the water up to the edge of the pan (6) and bake at 200 degrees C for about 30 minutes. Remove from the oven and set aside.
Meanwhile, prepare the sauce by heating the tomato puree in a saucepan with oil, basil and a pinch of salt (7).
Cover a serving dish with the tomato sauce and place the hot flans on top. Garnish the surface with provolone cheese flakes and a few basil leaves and serve (8).
Preservation
The eggplant flan can be preserved in the refrigerator for a maximum of 1-2 days, closed in a special container with an airtight seal.