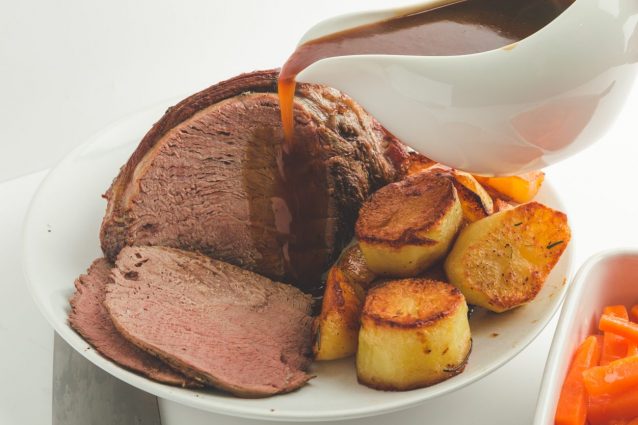 ingredients
beef round roast

5 lbs.

Butter

2 tablespoons

• 717 kcal

Water

1⁄2 cup

dried sage

1⁄2 teaspoon

dried mint

1⁄2 teaspoon

Butter

1 tablespoon

• 717 kcal

Flour

1 tablespoon

Water

1⁄2 cup , cold

dried sage

1⁄4 teaspoon

dried mint

1⁄4 teaspoon

Onion

1 whole , sliced

Garlic clove

1 , minced

seasoning salt

1⁄8 teaspoon

crushed red pepper flakes

1⁄8 teaspoon

Lemon juice

3 tablespoons

Olive oil

½ cup

Salt

• 1 kcal

White pepper
Calories refers to 100 gr of product
English-style roast beef is often served up for Sunday lunch or special occasions. Why not give it a new twist by serving it with a citronette sauce? Tangy lemon, garlic, and extra-virgin olive oil make this a great sauce to drizzle over vegetable side dishes, or even on roast meats themselves.
The beef is roasted with water to keep it from drying out and going tough, and the gravy that goes with it simply heightens the flavors. Serve with roast or mashed potatoes, and a choice of vegetable sides.
Instructions
Salt and pepper the roast well, rubbing it all over the meat.
Place the butter (or some oil) in a roasting pan and melt it over medium heat. Add the roast, and brown it on all sides.
Add 1/2 cup water or beef stock to the pan. Add some sage and mint to the roast, if using.
Cover pan with foil or a tight-fitting lid.
Roast in the oven at 350F/160C fan/gas mark 4 for around 3 hours if you like the roast well done. For rarer beef, roast for only 2 hours.
Keep checking each hour to make sure there's at least ½ cup liquid in the pan. If not, top it up with more water.
When the meat is done to your liking, remove roast to a plate and keep warm while it rests.
For the gravy:
Melt butter in a clean frying pan over medium heat, then add flour to melted butter.
Stir until the flour is well mixed with the butter.
Remove from heat and add 1/2 cup cold water (the water must be cold to make a smooth gravy).
Mix the water, butter, and flour together until a smooth paste is formed.
Place the pan back on medium heat.
Add a little sage and mint (if using), and stir in.
Now add all the liquid from the roasting pan to the flour mixture and mix it well.
Bring to the boil, stirring all the time, until the gravy has thickened.
Remove from heat and put into a warmed jug to serve with the roast.
To make the citronette dressing:
Stir ½ tsp salt in with the lemon juice in a bowl until the salt has dissolved.
Add the oil a little at a time, beating it in as you add it.
Season to taste, and add to cooked vegetables, tossing them well to coat. It works particularly well with carrots.
Notes:
Red wine can be used instead of water while roasting for a richer flavor. Use water in the gravy if you use wine to roast the joint.