ingredients
For the cake

bittersweet chocolate, coarsely chopped

1 ¾ cups

Butter

3/4 cup

• 717 kcal

Large eggs

5

Granulated sugar

1 cup

pure vanilla extract

1 tbsp
For the ganache

bittersweet chocolate, chopped

1 ¼ cups

sliced almonds, toasted

2 cups

Whipping cream

6 tbsp

Corn syrup

6 tbsp
Calories refers to 100 gr of product
Who says you need flour to make a rich, moist, elegant cake? Flourless chocolate cake is a meltingly moist easy-to-make gluten-free cake with a luxurious chocolate taste. This recipe is a favorite because you don't need any special equipment to make it. With a gorgeous chocolate ganache and a little crunchy thanks to toasted almonds, it's a wonderful dessert that you can serve on birthdays and other special occasions that is guaranteed to impress.
What is Flourless Chocolate Cake?
Flourless chocolate cake is a gluten-free fudgy, rich dessert. It's denser than cakes made with flour, giving it a more decadent texture.
What to Serve with Flourless Chocolate Cake
This decadent gluten-free cake is amazing with a helping of whipped cream or a scoop of ice cream. You could also drizzle a little salted caramel or chocolate syrup over the cake.
Expert Tips for Making Flourless Chocolate Cake
– Use room temperature ingredients when you're baking.
– You can add a dash of instant coffee to boost the chocolate flavor. Don't worry – you won't taste the coffee at all.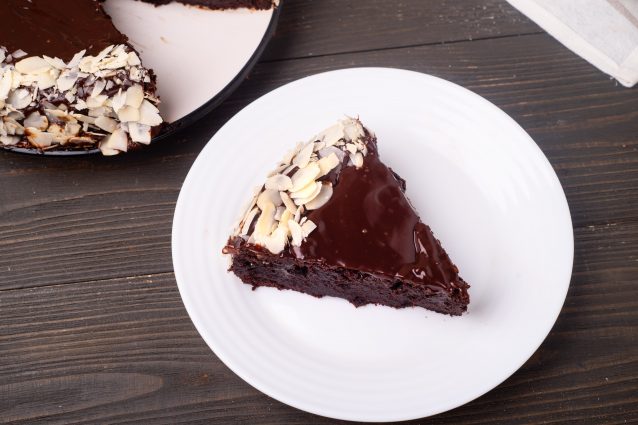 How to Make Flourless Chocolate Cake
Preheat your oven to 350°F. Lightly grease a springform pan with cooking spray.
Melt the chocolate and butter over medium-low heat, making sure to stir occasionally. Add the vanilla, mix until smooth, then remove from heat to cool completely.
Beat eggs and sugar with a handheld mixer until light and airy.
Slowly add the chocolate, beating until the chocolate is fully incorporated into the butter-sugar mixture.
Pour the cake batter into the springform pan.
Then bake for 45 minutes.
Remove from the oven and run a knife around the edge of the cake. Leave it to cool to room temperature.
While the cake is cooling, heat whipping cream and corn syrup over medium heat. Once it begins to just simmer, reduce the heat, and pour in the chocolate. Stir until the ganache is smooth, then remove from the heat to cool. Pour the ganache over the cake.
Top with toasted almond slices, then place in the fridge for at least 1 hour before serving.
Notes
– Flourless chocolate cake lasts 1 to 2 days at room temperature, 4 days in the fridge or about 6 months frozen. Whichever method you choose, make sure to pop your cake in an airtight container for maximum freshness.
– Use an 8 or 9-inch springform pan for this recipe.