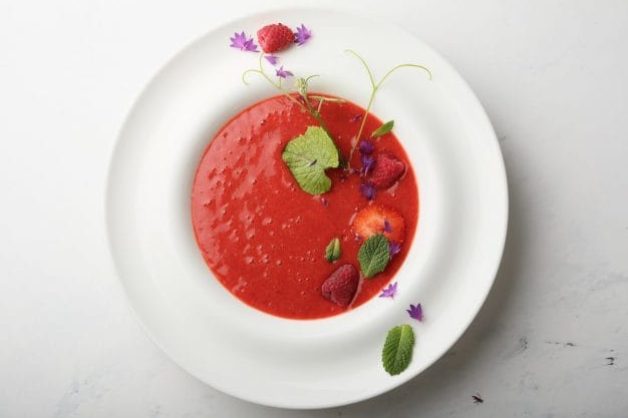 ingredients
Tomatoes

500grams

Red pepper

100grams

Cucumber

100grams

Strawberries

40grams

currants

100grams

Raspberries

60grams

Salt – as much as it is needed

Pepper – as much as it is needed

Extra-virgin olive oil – as much as it is needed

Stale bread

40grams

White wine vinegar

25ml

Garlic

1 clove

Mint leaves

4

Water

1 glass
The gazpacho with red fruits is a fresh and flavourful appetizer based on raw vegetables and stale bread, a gourmet variant of the classic recipe of the Andalusian gazpacho with tomatoes, cucumber and red pepper. The gazpacho is a simple dish, perfect for starting a summer fish dinner with friends who love good food. With this recipe we have combined the classic recipe with the acidity and flavor of red fruits, creating a dish that is good to eat and beautiful to look at!
Instructions:
Soak the stale bread in a bowl with white wine vinegar (1), drain it and set it aside. Prepare vegetables and fruit. Clean currants, strawberries and raspberries with cold running water (2). Cut the tomatoes and remove the seeds (3).
Peel the red pepper, remove the seeds and cut it into strips (4). Do the same with the cucumber and, finally, peel and finely chop a clove of garlic after having deprived it of the core (5). Add a glass of water and the ingredients in a blender keeping aside some currants for the decoration of the dish. Season with salt and pepper and sprinkle with a little oil. Blend for 4 minutes until creamy (6). Sift your mixture with a fine mesh sieve and place it in a bowl. Cover with a sheet of transparent paper and let it cool in the refrigerator for 30 minutes. When the gazpacho is very cold pour it into the dish, garnish with fresh currants and a mint leaf and serve it immediately!
Tips
Be careful to remove all the seeds from the tomatoes and the red pepper, they could ruin the consistency of your dish.
For a tastier aperitif, accompany your gazpacho with lightly blanched fresh prawns flavored with extra-virgin olive oil and grated lime zest, a fresh dish that will amaze you!