ingredients
low fat cream cheese, softened and lightly beated

3 tbsp

reduced fat sour cream, lightly beaten

1 1/2 tbsp

Low fat thick plain yogurt

1 tbsp

Powdered white sugar

1/2 tbsp

Vanilla Extract

1 tsp

Red grapes seedless

250 g

Green grapes seedless

250 g

Brown sugar

1/2 tbsp

large fresh basil leaves, thinly sliced

3

fresh mint leaves, thinly sliced

1 tbsp

walnut halves, roughly chopped

1/4 cup
Green Grape Salad is a quick, easy recipe to enjoy in fall as dessert or sweet snack. You can make in no time and then enjoy this refreshing and creamy dish. Prepare it at least a couple of hours in advance to let all ingredients to combine.
Mix the green and red grapes with cream cheese, sour cream, yogurt, brown sugar and walnuts, then let it chill before serving this delicious fall recipe. This salad tastes best when served chilled. This green grape salad is a healthy, sweet dessert that is rich in nutrients and will fill you up.
Tips
You can make this  sweet salad even a day before and let it chill over night before serving the next day.
Make sure you chill the salad at least for 30 minutes before topping or stirring in the walnuts.
You can substitute cream cheese and sour cream with greek yogurt.
Make sure your cream cheese is well softened otherwise the mixture will be lumpy.
How to store Creamy Green Grape Salad
You can store green grape salad in the refrigerator in an airtight container for up to 3 days.
Can you freeze Green Grape Salad?
It is best not to freeze this creamy green grape salad as it will not thaw properly.
How to make Green Grape Salad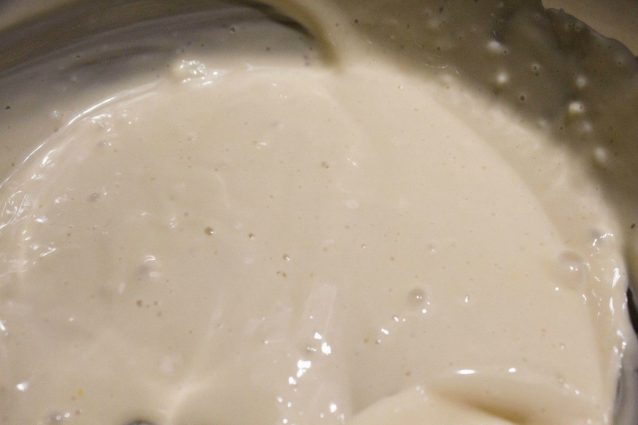 Place walnuts in a microwave safe dish and microwave the nuts for about 1 minute. Cool the nuts to room temperature. Meanwhile, in a bowl whisk the cream cheese, sour cream, powdered white sugar, and vanilla extract until smooth in consistency and well blended.
Add the brown sugar, basil leaves, mint leaves and whisk everything well until well combined.
Add the red and green grapes.
Mix everything well until the mixture coats the grape well. Cover the salad in bowl with a cling film and chill the salad for at least 30 minutes.
Transfer the chilled salad in to the serving bowl, top with walnuts and chill again for about 15 minutes. Serve and enjoy!