ingredients
Uncooked brown rice

250 g

Vegetable Oil

1 tbsp

Small onion, chopped

1

Spring onions, chopped

2

Scotch bonnet chili

1/4

Tomato, deseeded and chopped

1

fresh parsley, chopped

2 tbsp

Dried thyme

1/2 tsp

Black pepper

1/2 tsp

Prepared dried fish

5oz

Grated cheddar cheese

7oz

Mixed bell peppers, deseeded and tops cut off

5
Make something different on your grill than simply burgers and sausages. These Grilled Stuffed Peppers are nutritious, and packed with flavor. It's a delicious way to enjoy extra vegetables, so it's a great midweek option. The filling for the Grilled Stuffed Peppers is precooked, and then stuffed into the deseeded peppers. Because the peppers are cooked on the grill (and not in the oven), they get a delicious char and smoky flavor. Simply put them on the grill for about half an hour, and enjoy!
Tips
– These peppers can be made ahead, but taste best when they're fresh off the grill.
– Store stuffed peppers in the refrigerator in an airtight container for up to 4 days.
– You can reheat the peppers in the microwave, or in the oven at 180°C/350°F.
– The grilled stuffed peppers can also be frozen. Simply place them in an airtight freezer-safe container and freeze for up to 3 months. Thaw in the refrigerator overnight before reheating in the oven.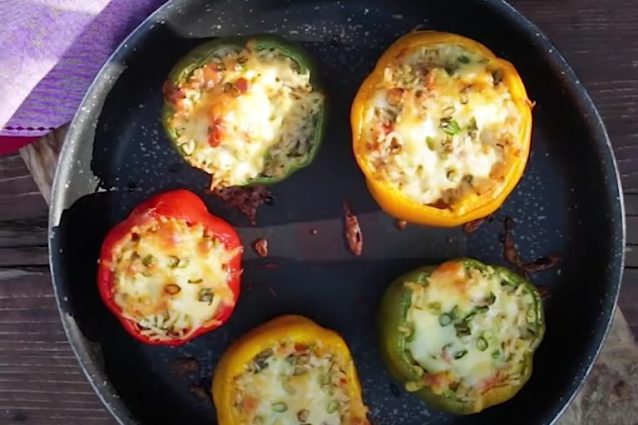 Variations
– Substitute the dried fish with ground beef, canned tuna, cooked turkey, or cooked, shredded chicken. Try turkey sausage for something different!
– Make the recipe vegan by adding quinoa and lentils, and omitting the animal protein and cheese. Use a vegan cashew cream instead of dairy cheese.
– If you don't have brown rice, you can use white rice. Or use jasmine rice for flavor and density, or basmati if you prefer a more earthy flavor.
– For Tex Mex flavor, use cooked ground beef, taco seasoning and serve with a squeeze of lime.
What to serve with Grilled Stuffed Peppers?
These Grilled Stuffed Peppers make a great side to a grilled steak, but they can also be enjoyed on their own as an appetizer.
How to make Grilled Stuffed Peppers
Cook your brown rice and let it cool.
Add the oil to a heavy-bottomed skillet over medium heat on the grill.
Add the onions and spring onions, reserving some spring onions for later use.
Add the chili, tomato, parsley, thyme and black pepper. Cook for about 4-5 minutes.
Add the fish to the cooked rice and then add the cooked vegetables.
Add the grated cheese (reserving a little for later) the mix.
Stuff this mix into your peppers. Place the peppers into a heavy based pan and sprinkle with the remaining cheese and spring onions.
Place over the indirect heat section on your grill for 30 minutes and close your grill.
Move to the direct heat section for 5 minutes and again close your grill. Serve with chopped chives. Enjoy!
Notes
For this recipe, you can use any color of bell pepper. The red and yellow ones tend to be sweeter whereas the green pepper tastes more sharp.