ingredients
Flour

120 g

Corn starch

30 g

Sugar

2 tbsp

• 470 kcal

Vegetable Oil

2 tbsp

Milk

1 tbsp

• 49 kcal

Egg

1

• 130 kcal

vanilla sugar

1 tsp

Baking powder

1/2 tsp

• 156 kcal

Sea salt

a pinch
Calories refers to 100 gr of product
These Homemade Crackers are so much better than store-bought ones. Once you taste the real deal, you won't reach for a store-bought packet again. These thin crackers are neutral in flavor and slightly sweet, perfect for adding any preserve or spread you like. They are crispy and chewy too. To make them, you simply mix together the ingredients, roll them out and bake them. Best of all, you don't need any yeast, only a handful of pantry ingredients such as flour, sugar, eggs. You can make these homemade crackers ahead of time, and use them as a base for a wide array of delicious appetizers.
Homemade Crackers Ingredients
Flour and corn starch: use all-purpose flour. To make it healthier, you can also use half wholewheat flour.
Milk and eggs: these are used as a binder.
The sugar adds just the right amount of sweetness.
How to make Homemade Crackers
Blend the wet ingredients together. In a separate bowl, whisk together the dry ingredients. Mix the two together and knead to form a dough. Roll out the dough, cut in squares, and poke small holes in the crackers (this allows for even cooking).
Tips for Easy Homemade Crackers
– You can use a food processor or blender, but don't overmix, as it will make the crackers tough, dense and dry. So make sure you don't overmix them!
– To make them gluten-free, use gluten-free all-purpose flour. Alternatively, use almond flour. This will also make them healthier.
– To make them vegan, use plant-based milk and a vegan egg substitute. To make it dairy-free, just use plant-based milk.
– The thickness of the cracker will determine its texture. Roll it out thinner, and the cracker will be super crispy. Keep it thicker, and the cracker will be chewier. Whatever you choose, make sure the dough is rolled out evenly.
How to serve Homemade Crackers
Serve these plain with a cup of coffee or tea, or add your favorite fruit preserves or spread such as eggplant spread. You can also serve the crackers as a part of a charcuterie board. Alternatively, serve it with your favorite dip.
Homemade Crackers Variations
Because the flavor of these homemade crackers is neutral, it's easy to make variations.
Add fresh or dried herbs (like thyme, rosemary, or dill)
Add seeds like poppy seeds, caraway seeds, sesame seeds, or even pumpkin seeds.
Add spices like cumin, coriander, paprika, and chili powder.
Add parmesan cheese for a salty flavor.
How to store Homemade Crackers
Store the homemade crackers in an airtight container for up to two weeks.
Instructions
Beat the egg with the milk.
Add the vanilla sugar, sugar, salt, oil, and mix.
In another bowl mix flour, baking powder and corn starch.
Add the flour mixture with the egg mixture.
Mix until you get a dough.
Use a rolling pin to flatten until the dough is 2-3 mm thick.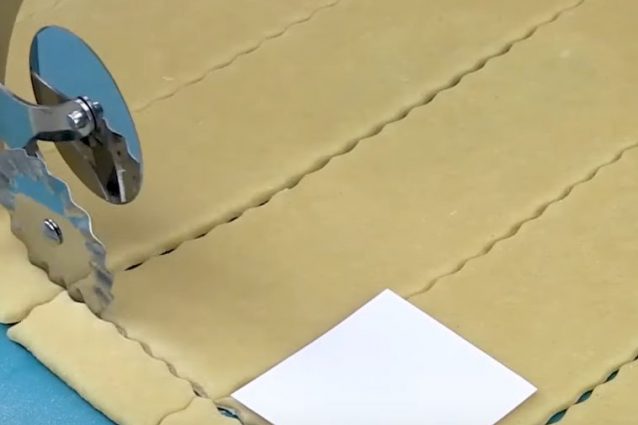 Use a cutter to make 4-5 cm squares.
Use a wood skewer to make several small holes in the squares.
Bake for 10 minutes at 180ºC (356ºF).
Notes
Don't skip the piercing step! The holes in the crackers ensure even cooking.