ingredients
For the broth (dashi)

Chicken stock

8 cups

dried shiitake mushrooms

16

10″ square piece kombu kelp

dried bonito flakes, loosely packed

2 cups
For the pork and marinade (tare)

Soy sauce

1 ¼ cups

Mirin

1 ¼ cups

Sake

1/2 cup

Water

1 ½ cups

Granulated sugar

1/4 cup

Brown sugar

2 tbsp

2″ piece fresh ginger, sliced

garlic, peeled and smashed

3 cloves

spring onions, halved

3

pork belly, skin on, cut into 2″ strips

1 lb
For marinated eggs (nitamago)

hard-boiled eggs

4

reserved pork marinade

2 ½ cups
For garlic chili oil (la-yu)

garlic, sliced

8 cloves

Canola oil

1/2 cup

crushed red pepper flakes

1 ½ tbsp

Sesame seeds

2 ½ tsp
For each serving

fresh ramen noodles

4 ounces

Chicken broth

1 ½ cups

reserved shiitake mushrooms, sliced

2

marinade, or more to taste

3 tbsp

Pork

2 slices

Egg, halved

1

• 130 kcal

spring onion, sliced

1

Chili oil

2 tsp
Calories refers to 100 gr of product
This authentic homemade ramen bowl recipe will blow your mind. It's a phenomenally flavorful soup that comes from Japan and has gained popularity worldwide for its exceptional taste. Traditional Japanese ramen is a bit of a labor of love, especially if you're making the noodles by hand. This recipe simplifies things but features all the classic ramen components you'd recognize from your favorite Japanese restaurant. Aromatic ginger and garlic come together with savory mushrooms and a delicious broth. This recipe calls for pork, but chicken, beef, or tofu would all be equally delicious.  A little spicy, with wonderful, rich flavor, this incredible tasting ramen soup serves four people, so it's a perfect comfort food that's worth making all year round.
What Kind of Noodles Can I use for Homemade Ramen?
You can buy regular ramen noodles, but instant ramen works just fine in this recipe. If you want to challenge yourself, you can make the noodles from scratch.
The Best Ingredients to Add to Ramen
There are quite a few special ingredients you'll need to make this great-tasting homemade ramen. The traditional Japanese ingredients like bonito flakes, kombu, mirin, and sake, to name a few, make all the difference in giving your ramen that authentic flavor. Many of these ingredients are now available at supermarkets, but you can always order them online if they're not in-store.
What Spices Go into Ramen
You'll find all sorts of delicious aromatic spices in a bowl of ramen. Fresh ginger, chili flakes, garlic, and sesame seeds all add mouthwatering layers of flavor to this recipe.
How to Make Ramen with Chicken
Chicken ramen is not only delicious, it requires less cooking time than pork ramen. If you want to swap pork for chicken in this recipe, simply follow the same instructions for cooking the pork, but simmer the chicken breasts for 15 to 20 minutes.
Tips for Making the Best Homemade Ramen
– If you're using instant ramen noodles, don't use the seasoning packet. Throw it out or use it to season another dish.
– While you might salt the water when cooking pasta or other noodles, skip that step when cooking the ramen.
– For an even more authentic flavor, garnish the ramen bowls with seaweed (nori) before serving them.
– Tasting throughout the cooking process is always a good idea. You can make adjustments as you go along so that your homemade ramen will taste the way you want it to.
How to Make Classic Ramen
Making a classic ramen at home requires several preparations, but in this recipe we have simplified them while maintaining its exceptional taste.
How to Make Dashi (Stock)
Bring the chicken stock to a gentle simmer. Turn off the heat and let cool for 3 minutes. Add in shiitake mushrooms and kombu, stir, and let stand for 5 minutes. Add the bonito flakes, stir, and leave for another 5 minutes. Strain into a pot and reserve strained solid ingredients.
How to Make Pork for Ramen
Heat soy sauce, mirin, sake, water, sugars, ginger, garlic, and spring onions over medium heat. Bring to a simmer, then cook over low heat.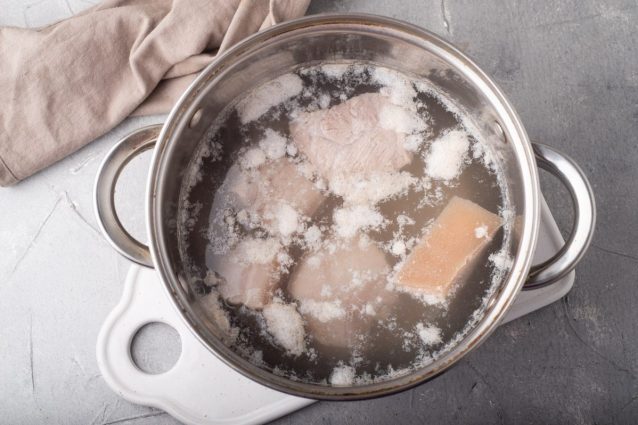 In a large pot, cook water and pork over medium heat. Allow to simmer for 5 to 6 minutes, then drain and rinse pork.
Put the pork in sauce, bring to a simmer, then cover and lower the heat, allowing the pork to cook for 1 hour and 20 minutes, until tender. Stir occasionally.
Turn off the heat and let the pork cool for 20 minutes. Strain the liquid out of the pot and reserve. Cut the pork before serving.
How to Make Marinated Eggs for Homemade Ramen
Peel the hard-boiled eggs and place them in a bowl filled with the pork marinade, making sure they're fully covered. Marinate at least 4 hours up to 12 hours.
How to Make Garlic Chili Oil for Ramen
Simmer the garlic in oil over very low heat for 15 minutes, or until soft and translucent.
Turn off the heat and add chili, stirring to combine. Let the mixture stand for 2 minutes, then add in sesame seeds.
How to Assemble Homemade Ramen
Cook ramen according to the instructions on the packet, then drain.
Heat the broth until warmed through. Place the noodles in a bowl, then add broth and 3 tablespoons of pork marinade. Garnish with pork, mushrooms, half a marinated egg, spring onions, and a small amount of garlic chili oil. Serve hot.
Notes
– Use low sodium soy sauce if you're watching your salt intake.
– If you have leftover garlic chili oil, it'll last 2 weeks when refrigerated. Use it to add an extra kick of flavor to other dishes.
– Storage: homemade ramen lasts in the fridge for up to a week.