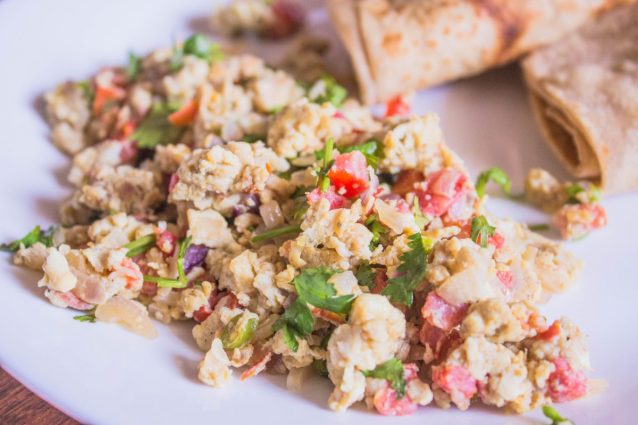 ingredients
Unsalted butter

1½ tablespoons

Green chili

1, finely sliced

Tomatoes

2 medium, finely chopped

garam masala or cumin powder

½ teaspoon

A pinch turmeric powder

Salt

1¼ teaspoons

• 1 kcal

Eggs

5 large, well beaten

• 130 kcal

Fresh cilantro

¼ cup, finely chopped
Calories refers to 100 gr of product
This recipe is quite the typical version of how people in India prefer to eat eggs! In fact, you will find many street vendors selling this version of eggs, which is eaten by many for practically all meals of the day. Indian scrambled eggs can be eaten with parantha, chapatti, or even the basic bread slices.
Heat the butter in a non-stick pan until it starts to melt. Add onion and green chili to it. Cook the vegetables for about 2 minutes or until onion turns light pink in color. Add tomatoes and continue cooking the vegetables for another 1 minute while stirring intermittently.
Season the vegetables with garam masala or cumin, turmeric, and salt. Stir in the eggs and cook everything while stirring continuously until the eggs begin to set. Stir in cilantro and serve hot scrambled eggs with plain parantha or chapati!
2TIPS
Do not overcook the eggs and cook it until just about set as eggs continue to cook even after turning off the heat. You can also add about ½ a teaspoon of paprika to spice up this egg preparation.
Nutritional information (per serving): 156 Calories, 10.6g Total fat (4.7g Saturated fat, 1.5g Polyunsaturated fat, 3.5g Monounsaturated fat), 244.2mg Cholesterol, 823.2mg Sodium, 305.7mg Potassium, 6.9g Total carbohydrates (1.4g Dietary fiber, 2g Sugars), 9g Protein