ingredients
leftover boiled meat (brisket or ribs)

300 g

bologna

80 g (one piece)

Egg

1

• 130 kcal

Stale bread crumbs

100 g (1 cup)

Lemon

1

Milk

as much as needed

• 49 kcal

Grated parmesan cheese

30 g

fresh chopped parsley

5 g

Fine salt

as much as needed

Black pepper

as much as needed

Nutmeg

as much as needed

Butter

250 g (1 cup)

• 717 kcal

Breadcrumbs

as much as needed
Calories refers to 100 gr of product
Italian meatballs are a typical recipe of Milanese gastronomy. Known as mondeghili, they are prepared with a mixture of boiled meat, flavored with lemon zest and nutmeg, and finally fried in bubbling butter. As with most traditional recipes, each Milanese family has its own personal and beloved version. They were born as a poor dish and it was in the 17th century that the Spaniards taught the recipe to the Milanese people, who soon turned them into the culinary symbol of the city. Simple and tasty, the Italian meatballs are also a great way to recycle leftover meat and make it soft and succulent again. So let's find out how to prepare Italian meatballs with our recipe and serve them as an appetizer or main course at a dinner with guests.
How to make Italian Meatballs
Using a slotted spoon, drain the boiled meat (1), collect it in a bowl and let it cool.
Collect the meat in a kitchen mixer, add the bologna (2) and blend well. Put the breadcrumbs to soak in the milk.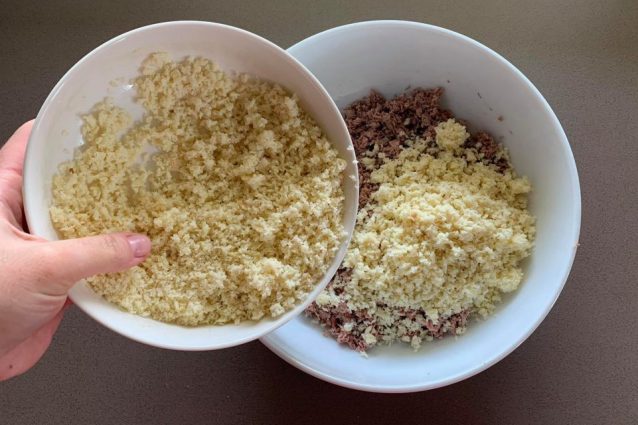 Transfer the minced meat and bologna to a large bowl and add the squeezed breadcrumbs (3), the egg, the chopped parsley, the grated lemon zest, the nutmeg and the grated Parmesan cheese.
Mix with your hands until the mixture is soft and homogeneous (4). Season with fine salt and ground pepper.
Form slightly elongated meatballs weighing about 35-40 grams each one and pass them in breadcrumbs (5).
Melt the butter in a pan and fry a few meatballs at a time (6).
When they are lightly browned, gently turn the Italian meatballs over (7) and continue cooking on the other side as well.
Once cooked, drain the Italian meatballs on a paper towel and serve hot (8).
How to store Italian Meatballs
To save the fragrance and crunchiness, we suggest to fry the Italian meatballs and enjoy them hot at the moment. If there are some leftovers, the Italian meatballs can be stored in the refrigerator, in a special airtight container, for a maximum of 2-3 days. You can also freeze them both raw and cooked.