ingredients
for the crust

crushed crackers

1/4 lb

Melted butter

1/2 cup

Brown sugar

2 tbsp
for the filling

Cream Cheese

1 lb

heavy whipping cream

1 cup

Powdered sugar

3/4 to 1 cup

Vanilla Extract

2 tsp
for the topping

peeled kiwis

4 to 6

White sugar

3 to 4 tbsp

• 392 kcal

Water

2/3 cup

powdered gelatin

2 to 3 tbsp
for the decoration

sliced kiwi fruit
Calories refers to 100 gr of product
Cheesecake is one of the most popular dessert because everyone can customize it according to taste, but what about kiwi cheesecake? Kiwis are fresh-tasting and tangy, slightly sweet fruits, and packed with nutrients. No one wants to spend endless hours in front of a hot oven. Luckily, this recipe for Kiwi Cheesecake requires only baking for the best.
This kiwi cheesecake is creamy, sweet, and fruity, with a slight crunch from the biscuit base. With typical cheesecake ingredients and fresh kiwi fruits, you can make this delicious dessert in no time. Just bake the crust, add your filling and top with fresh kiwi slices.
How To Make Kiwi Cheesecake
The Kiwi Cheesecake is made up of three components: the baked biscuit base, the cream cheese filling, and the kiwi topping. To create the base, the biscuit crumbs are mixed with sugar and melted butter and then baked.
The filling is made by whipping the cream cheese and heavy cream with the other ingredients until smooth. This filling is poured onto the base and smoothed using a spatula.
The kiwi topping is made by boiling it with gelatin until it thickens. It's cooled and poured onto the filling. Once set, fresh kiwi slices are added.
Tips
For best results, use Philadelphia cream cheese. You can also use mascarpone cheese in place of the cream cheese.
It's important to let the ingredients warm up to room temperature, this will ensure a smooth and silky cheesecake.
For a shortcut, you can use a cheesecake box mix for the filling.
Use other fruits instead of the kiwis, try lime, lemon, and even strawberries.
Make this kiwi cheesecake into small mini cheesecakes. Follow the recipe, but instead of a round springform cake tin, use a rectangular tin, and once the cheesecake has been set, slice it in bars. Alternatively, make them in a small muffin pan.
Add lime zest to the filling to make this cheesecake extra refreshing.
For the crust, you can use vanilla wafers or graham crackers.
To make this a no-bake kiwi cheesecake, you can use another base: Simply mix together 5.3 oz biscuits and 1/4 cup of melted butter, and press into the cake pan.
Topping ideas: lime zest, sour cream, yogurt, fresh whipped cream
How To Store Kiwi Cheesecake
The Kiwi Cheesecake can be stored in the refrigerator (in an airtight container) for up to 5 days. Add the fresh kiwis right before serving.
Instructions
First make the crust by mixing together the crushed crackers, sugar, and melted butter.
Place the wet crumbs in a baking tray and use your hands to press them into the base. Bake at 350°F (170°) for 5-7 minutes.
In a food processor blend kiwi, water and sugar, then pour this mixture in a pot, add gelatin and warm up to a boiling point.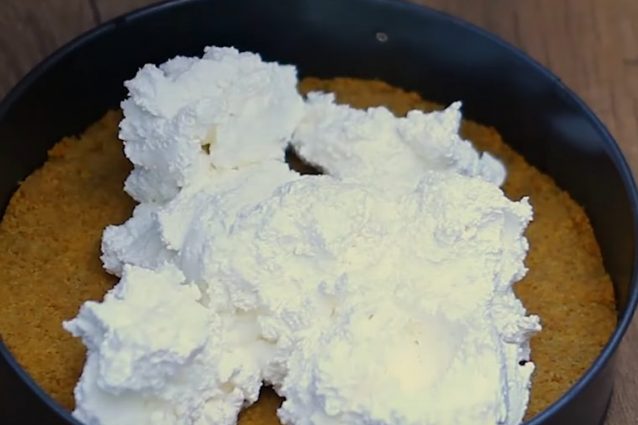 Then make the filling by whipping the heavy cream with sugar and vanilla extract. When it is done, add cream cheese and mix till it gets smooth. Spread this cream cheese filling onto the baked base.
Then pour the kiwi gelatin and spread it into a thin layer.
Finally, decorate with thinly sliced kiwi. Slice, serve, and enjoy!
Notes
Make sure to use superfine powdered sugar for the filling, otherwise, it will have a granular texture.