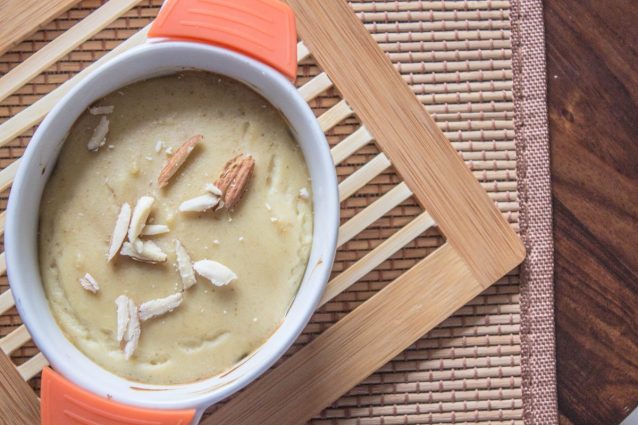 ingredients
Low fat milk

1 cup

Brown sugar

1½ tablespoons

Egg yolks

2, beaten

Vanilla Extract

1 teaspoon

challah bread

1 slice
Leche asada is a lovely silky smooth baked dessert that is so simple to prepare yet very rich!
It is one of those fancy preparations that you may prepare with just a few basic supplies always available at home. And, this dessert is just perfect to be relished on a cold cold winter night…
It actually resembles the good old classic dessert crème brulee a lot and you may also caramelize some brown sugar once the dessert bakes to make it more crème brulee-ish!
Instructions:
In a pan add the milk and brown sugar. Stir the sugar slightly in to the milk and then heat it until the milk starts to boil. Cool the milk slightly. Meanwhile, remove the brown crust of the bread and roughly cut in to small cubes.
Once the milk cools, add the beaten egg yolks, and vanilla to it. Stir it well and then cook the milk mixture again on low flame while stirring continuously. Cook the custard until it starts to boil and thicken slightly. Add a little milk more if you feel that the custard is becoming too thick and lumpy. Add the bread to custard and cook everything for about 10 to 15 seconds. Turn off the heat and slightly cool the custard to room temperature. Preheat the oven to 175 degrees C.
Now, blend this mixture until it is silky smooth in consistency. Transfer the pureed milk mixture to a ramekin and then place it in a bain marie. Bake the leche asada for about 20 to 25 minutes or until it is slightly golden brown on top. Serve it warm and enjoy!
Tips
– Make sure you are constantly stirring the milk mixture each you put it over the flame.
– You may use a hand blender as well to puree the bread and custard mixture in the pan itself.
– Maintain the baking temperature and you might need to keep a watch on the dish in the final minutes of baking.
– Make sure that you carefully remove the egg shells while you break the egg to separate the yolk.
– You may garnish the preparation with a few slivered almonds as well.
Nutritional information (per serving): 325 Calories, 12.4g Total fat (4.9g Saturated fat, 2g Polyunsaturated fat, 4.7g Monounsaturated fat), 380mg Cholesterol, 274.1mg Sodium, 464.1mg Potassium, 40.1g Total carbohydrates (0.8g Dietary fiber, 23.3g Sugars), 16.4g Protein