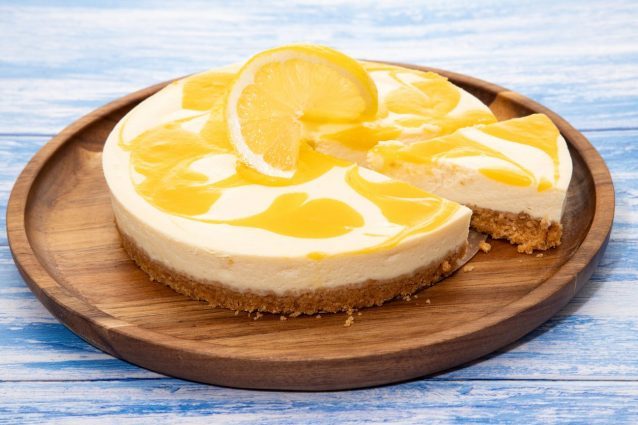 ingredients
Dried biscuits

250 grams

Melted butter

100 grams

Ricotta cheese

250 grams

• 140 kcal

Whipping cream

200 ml

White chocolate

100 grams

Icing sugar

4 tablespoons

Jelly

8 sheets

Lemon

1

grated lemon zest

as much as is needed

Lemon juice

100 ml

Sugar

40 grams

• 470 kcal

Cornstarch

8 grams

• 338 kcal
Calories refers to 100 gr of product
The lemon-white chocolate cheesecake is a really tasty cold cake that doesn't need to be cooked, a variant of the cold lemon cheesecake, ideal for hot summer days. The fresh and sour taste of lemon is perfectly combined with the sweetness of white chocolate; in this way you will create a delicious and irresistible dessert that will be loved by your guests, it can be also eaten as a fresh snack. The base will be made with crumbled biscuits and butter and covered with a cream made with ricotta cheese, cream, icing sugar, jelly and white chocolate. For the garnish we have made a lemon glaze, but you can decorate it as you like. So let's see all the steps to make it in the best way.
How to prepare lemon and white chocolate cheesecake
Chop the biscuits in the mixer and put them in a bowl (1), add the melted butter and mix well (2). Line a 20cm diameter hinge mold with parchment paper and pour the biscuit mixture; press it well to obtain a smooth base (3). Refrigerate for at least 30 minutes.
Soak the jelly sheets in cold water (4) for about 10 minutes. Melt the white chocolate with a bain-marie, mix and let cool (5). Work the mascarpone cheese with the icing sugar (6), add the melted chocolate, the lemon juice and the grated lemon zest and mix all the ingredients.
Whip the cream in a separate bowl (7) and add it to the mixture with movements from the bottom upwards (8). Squeeze the jelly and put it in a saucepan with 2 tablespoons of mixture; let it melt on a low heat. Let cool and add to the bowl, working with the electric whisk. Pour the mixture onto the biscuit base, level and refrigerate for at least 3 hours (9).
Now make the glaze; put the lemon juice (10), the cornstarch and the sugar in a saucepan and mix. Simmer for a few minutes, until you will have obtained a thick cream. Once ready let it cool down (11). Pour the lemon glaze over the cheesecake and level it. Put the cold cake in the refrigerator for another 30 minutes. Your lemon and white chocolate cheesecake is ready to be served (12).
Preservation
You can preserve the lemon and white chocolate cheesecake in the refrigerator for 2-3 days well covered or in an airtight container.