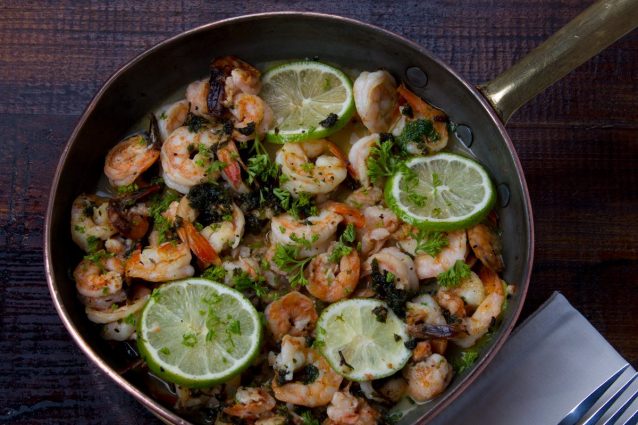 ingredients
Shrimps

1 lb

Crushed red pepper

1 tsp

Dry white wine

2 tbsps

Extra virgin olive oil

1 tbsp

Garlic

3 cloves

Lemon

1

Unsalted butter

2 tbsps

Parsley

Salt

• 1 kcal
Calories refers to 100 gr of product
Lemon Garlic Butter Shrimp is ready in about 15 minutes and combines many flavors. Buy the shrimp, prepare them with butter and garlic to create a thick and inviting sauce, and serve the dish.
Shrimps have a unique, delicious and special flavor. This fact makes wonderful any recipe where they are included. This simple recipe makes the shrimp taste even more special and this can be achieved in a short time with a little effort. They are excellent companion for pasta or salads, and even perfect to be serve as snacks in any event. Surprise them all and enjoy making and tasting this succulent dish.
Directions
Wash and peel the shrimp. Remove the vein with a sharp knife and rinse again. If you buy the already cleaned shrimp you can skip this step. Dry the shrimp with paper towels to avoid splashing oil when placing them in the pan.
Proceed to mince the garlic cloves, chop the parsley and extract the lemon juice. Preserve them all.
Put a frying pan on medium heat, pour the olive oil and add butter. Now add the shrimps, garlic and pepper.
Mix all the ingredients added and cook for about 3 minutes, until shrimps take a pink aspect. Shrimp should not be cooked for more than three minutes because they will lose the tender consistency of their meat.
Cook them one minute per side and turn them quickly. Retire from heat and add the remaining ingredients, and serve immediately. You can decorate with a few chopped parsleys if you want.
Notes
To further accentuate the flavor of the lemon, you can add an additional lemon cut into slices.
The taste of the shrimp allows you to use this recipe to eat as an appetizer or as a main dish accompanied by pure, pasta or potatoes.
Nutrition Facts
Nutrition Facts Servings: 4 Amount per serving   Calories 231 % Daily Value* Total Fat 11.3g 15% Saturated Fat 4.8g 24% Cholesterol 254mg 85% Sodium 361mg 16% Total Carbohydrate 4.3g 2% Dietary Fiber 0.6g 2% Total Sugars 0.5g   Protein 26.3g