ingredients
eggs, separated

4

Sugar

120 g (1/2 cup)

• 470 kcal

Flour 00

100 g (1/2 cup + 2 tbsp)

Cornstarch

100 g (1/2 cup + 2 tbsp)

• 338 kcal

Boiling water

30 ml (2tbsp)

Vegetable Oil

30 ml (2 tbsp)

Baking powder

10 g (2 tsp)

• 156 kcal

Vanilla Extract
Calories refers to 100 gr of product
Before you get too excited, this cake does not contain any tequila, nor is it named after the Margherita cocktail. Instead, it's an easy Italian dessert recipe. The flavor is light, while the texture is soft and fluffy. Traditional Margherita Cake is made with butter and lemon zest, but we changed it up a little.
So for this recipe, you'll only need eggs, sugar, flour, corn starch, vegetable oil, and baking powder. Who would've thought that with a few pantry staples, you can have a light and fluffy cake in no time? And best of all, you can serve it as a dessert, for tea-time, or as a snack. Fluffy like a cloud, this cake is amazing, and you will love it!
What Is A Margherita Cake?
Upon hearing the name for the first name, many folks think that it refers to the famous cocktail containing tequila. But this cake does not contain tequila, and it's also not named after the cocktail.
Because the cake is traditionally rich in butter and eggs, it has a slightly yellow color, and together with the bright white dusting of powdered sugar, it could therefore be named after a daisy, which is margherita in Italian. In fact, in Italy, this cake is known as torta margherita.
How To Make Margherita Cake
To make the cake, first mix together all the dry ingredients. In another bowl, whisk the wet ingredients (except for the egg whites) until smooth. Mix the wet and dry ingredients together and whisk until the mixture is smooth. Now add the whipped egg whites, little by little, stirring after each addition.
Pour the batter into a greased springform cake pan, and bake until golden and cooked through.
Tips
To prevent the cake from becoming dry, make sure not to omit the corn starch. It helps to make the cake crumbly and tender. If you don't have corn starch, you can also use potato flour.
Because this cake is so delicate, it's best not to use cake mix for it.
As always with cake baking, make sure that all your ingredients are at room temperature (especially the eggs!). Otherwise, the texture won't be right.
The baking powder needs to do its work, so don't let it sit for too long! Otherwise, it will lose its effectiveness.
How To Serve Margherita Cake
There are so many delicious ways to enjoy this cake. To make a layered cake, slice the cake horizontally to make two layers and fill it with your filling of choice.
For a simpler, less-sweet option, use slightly sweetened whipped cream.
Other filling options: custard, fruit preserves or jam, chocolate spread.
Alternatively, you can serve the cake plain with a side of whipped cream or ice cream.
How To Store Margherita Cake
Once baked, the cooled cake can be stored at room temperature for up to a week. Just make sure to wrap it tightly with plastic wrap, or store it in an airtight container.
The Italian Margherita cake can also be stored in the freezer. Simply wrap individual slices with plastic wrap and place them in a freezer-safe plastic bag. Freeze for up to one month and thaw at room temperature before serving.
More Recipes You'll Like
Instructions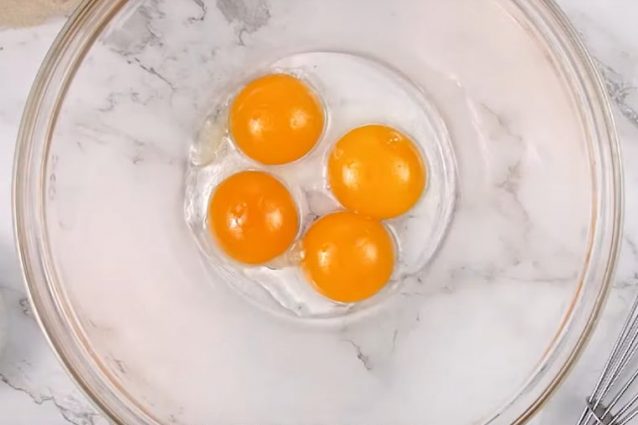 Whisk egg yolks with boiling water, oil, and vanilla in a large mixing bowl.
Separately beat egg white, adding sugar in portions, until stiff peaks form.
Whisk flour with baking powder and cornstarch.
Start adding flour mixture into egg yolks, alternating with egg whites.
When smooth and airy batter forms, pour it into the cake pan and bake for 1 hour at 180°C/350°F.
Dust with powdered sugar and serve.
Notes
To test the cake's doneness, stick a skewer or toothpick in the center (thickest part) of the cake. If it comes out clean, the cake is ready!