ingredients
Milk

350 ml

• 49 kcal

Flour

120 gr

Eggs

3

• 130 kcal

oil or butter

as much as is needed

Salt

as much as is needed

• 1 kcal

Mixed fresh or frozen mushrooms

600 grams

Milk

500 grams

• 49 kcal

Butter

60 grams

• 717 kcal

Extra virgin olive oil

4 tablespoons

Flour

60 grams

Garlic

2 cloves

Salt

as much as is needed

• 1 kcal
Calories refers to 100 gr of product
Mushroom crêpes are a very simple first course to prepare, suitable for an elegant dinner or a Sunday lunch: an easy and tasty recipe, which you can use in a thousand different ways. In the preparation we folded them in two, but you can also roll them on themselves: they will be more comfortable to take if you want to prepare them for a buffet or brunch. Follow the recipe step by step and tell us what you think.
How to prepare mushroom crêpes
Prepare the batter for the crepes: mix the eggs with the flour, then dilute the batter with the milk (1). If there are some lumps, you can either pass the batter to the blender or through a colander.
Lightly grease a pan with a paper towel, pour a ladle of batter and distribute it evenly in the pan. When it is firmed on one side and it begins to detach from the walls, turn it over and cook on the other side. Continue until you finish the batter (2).
In the meantime, heat the oil with the garlic. Peel and clean the mushrooms if you use them fresh (3), then cut them into pieces and throw them in a pan. If instead you use them frozen, defrost over medium heat in another pan and then cut those that seem particularly large.
Cook until they are soft and the liquid they release will be almost completely dried. Add salt, pepper and the chopped parsley (4).
Prepare the bechamel. Melt the butter, add the flour and bring to the heat to dry the roux (5). Add the milk, thicken on the fire, then season with salt.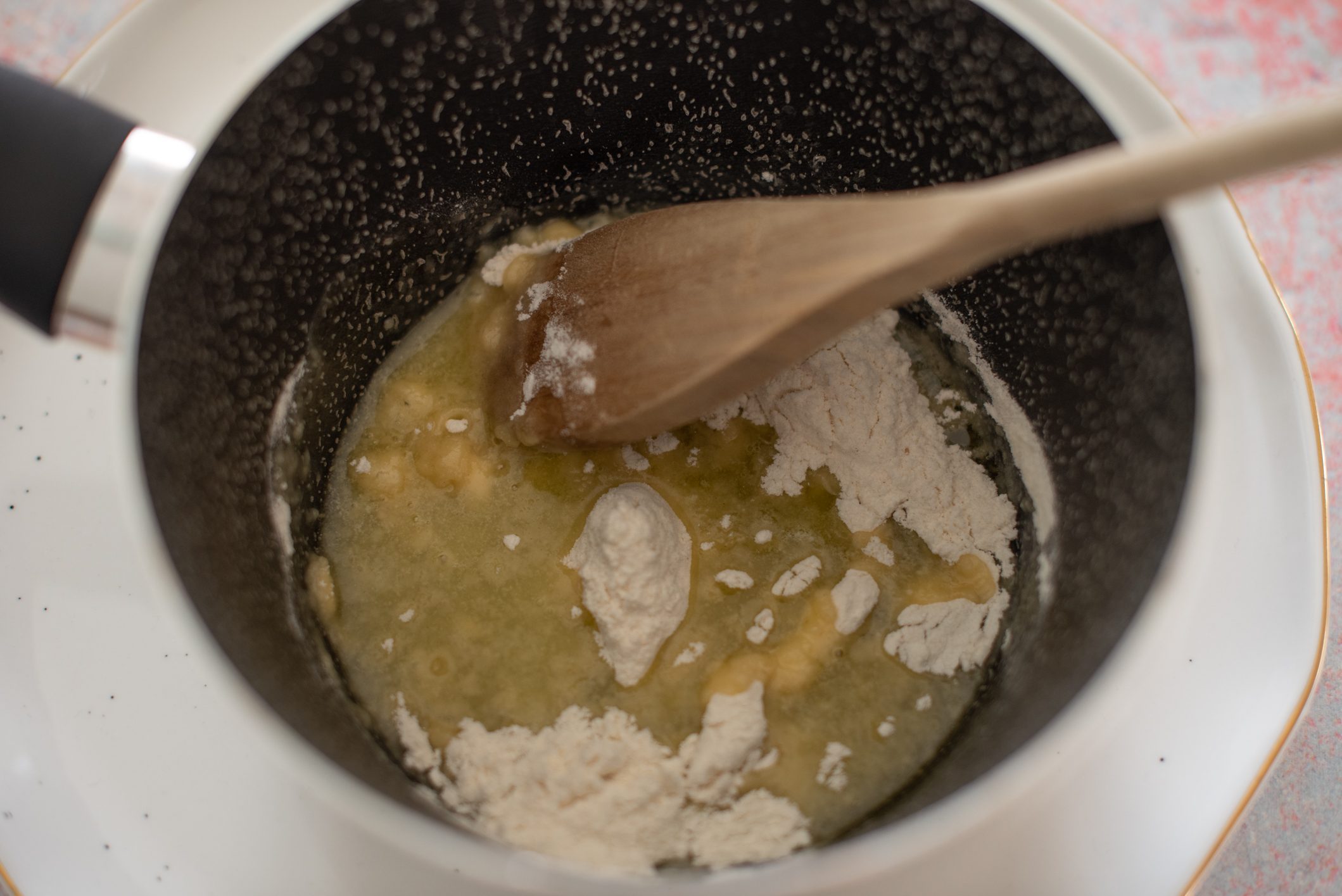 Stuff the crêpes with the mushrooms (6), put them in a pan and sprinkle them with bechamel. Bake at 180° C for about 15 minutes, until your crêpes are au gratin. Serve them hot.
Tips
You can add diced bacon to the filling, but also cheeses if you like; alternatively, finish the preparation by grating parmesan cheese or pecorino cheese on the crêpes, before putting them in the oven. You can choose the mushrooms you prefer: if you don't have fresh mushrooms available, the frozen mushroom mixes will also make your preparation quicker. Finally you can decide to mix 00 flour with another type of flour, such as rice flour, chickpea flour or chestnut flour.
Add the herbs you prefer to the filling: in this case chives but also thyme are perfect.
If you love savory crêpes, try also the recipe of cannelloni crepes or the crêpes pie with ham and cheese.
Preservation
You can prepare your crepes in advance and preserve them 1-2 days in the refrigerator. The filling, however, must be prepared just before you will serve the crepes.