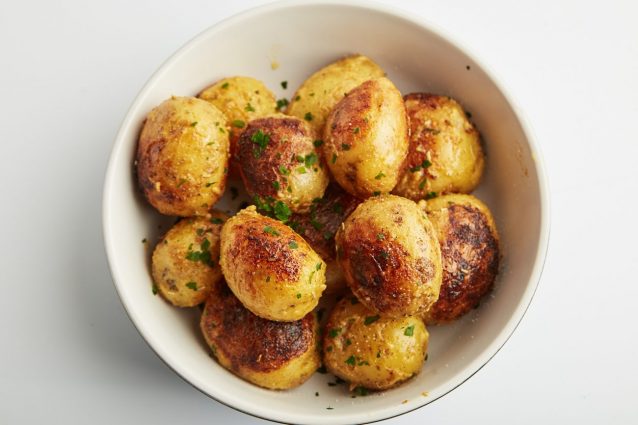 ingredients
Potatoes

1 pound small Yukon Gold or other small, waxy , washed and unpeeled

Dijon mustard

2 tablespoons

Olive oil

3 tablespoons – keep 1 tablespoon separate for frying

Chicken broth

3 tablespoons , plus extra broth for thinning marinade

Minced garlic

1 teaspoon

Rosemary

1/4 teaspoon dried

Pepper

1/4 teaspoon fresh cracked

salt to taste

Parsley

1 tablespoon chopped
If you're looking for a side dish that will give your taste buds a kick, then these Dijon mustard potatoes will fit the bill!
They're super-easy to make, too. They are started off in the microwave, then covered in mustard, garlic, olive oil and rosemary sauce and browned off in a skillet on the stovetop.
Team these potatoes with grilled or roast meats, chicken, or fish for a perfect weeknight dinner.
Instructions
Place a single layer of potatoes in a large (12-inch) microwavable container that has a lid, or one that you can cover with cling film.
Add 3 tablespoons of water to the container; cover and microwave potatoes on HIGH for 10 minutes. Remove from microwave and drain.
While the potatoes cook, place mustard, 2 tablespoons oil, chicken broth, garlic rosemary and pepper in a large bowl. Whisk to combine, and set aside.
Add potatoes to sauce and toss with a wooden spoon to coat all surfaces.
Heat reserved 1 tablespoon oil in a large (12-inch) skillet. When the oil begins to shimmer, carefully add the potatoes and mustard sauce to the pan and cook over low to medium heat until potatoes are glazed and brown.
You'll need to keep turning the potatoes and checking that they are not burning. Add more chicken broth if pan becomes too dry, and remove potatoes when they turn golden brown. Place in a serving dish and garnish with chopped parsley.
Notes:
Try to keep the potatoes evenly sized so that they will cook through properly. Also, avoid the temptation to crowd the pan – only cook enough that will fit easily in the bottom of the skillet in a single layer.