ingredients
unsalted butter, diced, plus extra

1/2 cup

saltine crackers, lightly crumbled

40

freshly shucked oysters, liquor reserved

2 cups

kosher salt and freshly ground black pepper

Whole Milk

3/4 cup
If you're looking for a super simple traditional recipe you can make for Thanksgiving, try oyster pie. This easy-to-make dish boasts a wonderful savory, buttery flavor with a decadently creamy texture and a crunchy topping that makes each bite irresistible.
To make oyster pie, you'll need plenty of saltine crackers (although Ritz crackers would make a phenomenal substitute), butter, milk, and of course, freshly shucked oysters. You can shuck the oysters at home, have your fishmonger shuck them for you, or buy a tub of pre-shucked oysters – whatever is easiest for you. Oyster pie is incredibly tasty, outrageously easy to prep and cook, and is sure to impress your guests!
Tips for the Best Oyster Pie
Buy enough oysters to serve about 3 to 4 per person.
If you don't have freshly shucked oysters available, pick up a 16-ounce tub of fresh oysters.
Use room-temperature butter for your oyster pie.
You can add other ingredients to your oyster pie like potatoes, ham, leeks, bacon, onions, sausage, hot sauce, or herbs and spices like paprika, cayenne, dried thyme, and Old Bay.
If you don't have saltines, oyster crackers will do the trick. Ritz crackers are another fantastic substitute that will give a buttery richness to your oyster pie.
For a creamier, richer oyster pie, use heavy cream instead of milk.
You can drain off the oyster liquor if you like, however, adding it to your pie will make the dish so much more flavorful.
How to Store Oyster Pie
Once cooled, cover your oyster pie in cling film or put it in an airtight container and refrigerate for up to 3 days.
Can You Freeze Oyster Pie?
Absolutely! Wrap the oyster pie well or transfer it to an airtight container and freeze for up to 2 months.
How to Make Oyster Pie
Preheat your oven to 350F. Grease a baking dish with butter.
Spread 1/3 of the crushed saltines over the bottom of the baking dish.
Layer half the oysters over the saltines, and season with salt and pepper.
Cover with another 1/3 of the saltines. Layer the remaining oysters over the saltines and season. Cover with remaining saltines.
Pour the milk over the cracker crumbs.
Place the diced butter over the top.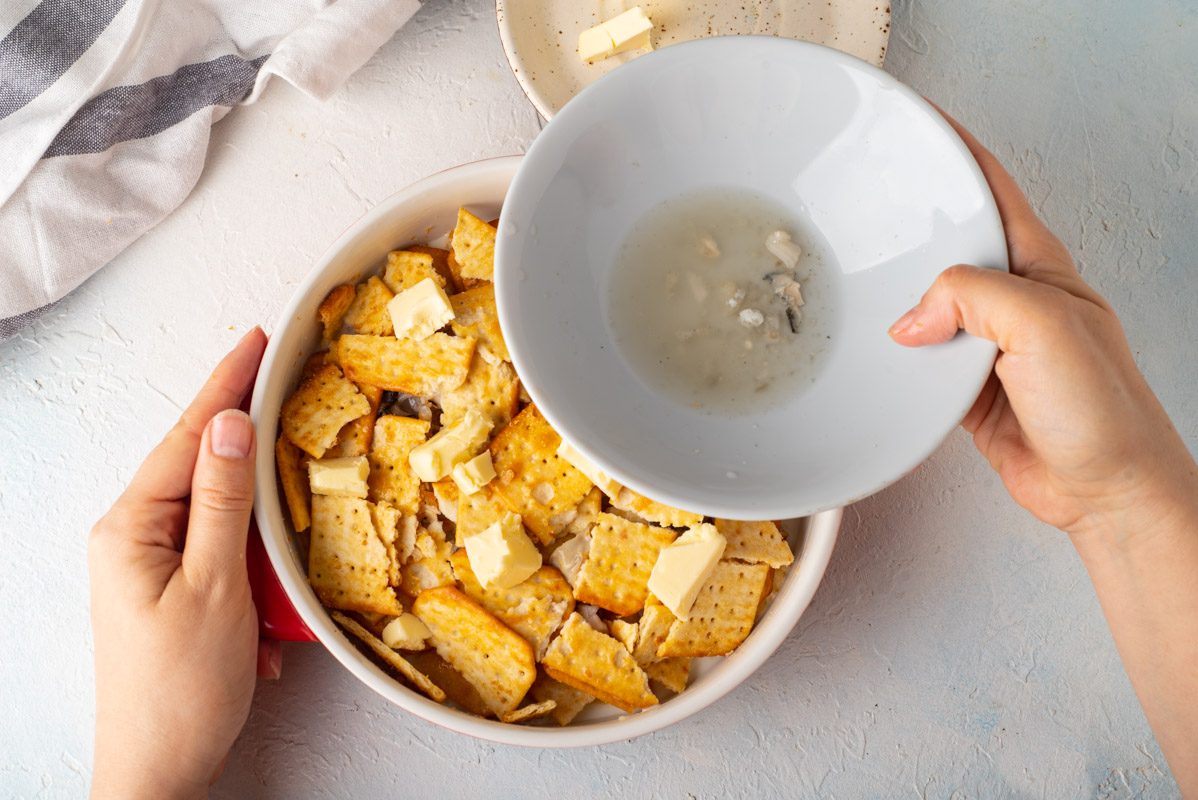 Top with the oyster liquor.
Bake for 25 to 30 minutes, until the oyster pie is bubbling hot and the topping is lightly browned.
Notes
Use n 8×8-inch baking dish to make your oyster pie.