ingredients
Flour

390 g (3 1/8 cups)

Sugar

90 g (1/3 cup)

• 470 kcal

warm milk

120 ml (1/2 cup)

Yeast

5 g

Egg

1

• 130 kcal

Egg yolks

2

butter, softened

75 g (5 tbsp)

Salt

1/2 tsp

• 1 kcal

zest from one orange

Orange juice

30 ml (2 tbsp)
Calories refers to 100 gr of product
If you love sweet breads, you'll be a big fan of this Pan de Muertos. In Mexico, this easy and sweet bread is traditionally prepared on Day of the Dead (Dia de los Muertos), which is celebrated early in November. The soft bread is enriched with eggs and butter, which makes it rich and flavorful, while the sugar makes it sweet too.
To make it, you first need a starter, which is then worked into the rest of the dough. The bread is creatively shaped and then baked until golden. If you haven't made a Pan de Muertos before, then you should try this recipe today!
What is Pan de Muertos?
Pan de Muertos (Bread of the dead) is a sweet bread enjoyed during the time of Dia de los Muertos (which means Day of the dead). During this time, the Mexicans honor their deceased loved ones by leaving them offerings at their gravesites, or at altars made at home. The offerings usually include the deceased's favorite food and drink which they enjoyed during the time they were alive and with this a Pan de Muerto is usually added. Because of the bread's importance, most bakeries sell it for this season, but of course, we think it's best when homemade.
Because the bread is made as an offering, the shape is important. The unique shape is said to represent the bones of the dead, while the small ball on top represents a teardrop (although some may say it represents the skull or the heart). While it's most often served sprinkled with sugar, it can also be served sprinkled with sesame seeds, or a simple egg wash.
How to make Pan de Muertos
First, make your starter by mixing 2 tablespoons of flour with yeast and warm milk. Set aside for 30 minutes to develop. Use the leftover flour and carefully make a well in the center. You will add the remaining ingredients here and gently mix to form a dough. The dough needs to be set aside for an hour until double in size. After this time, punch it down, and shape it. Bake until golden and sprinkle with powdered sugar.
Tips
Toppings: top with powdered sugar, sesame seeds, or a simple egg wash.
Shapes: shape it in the forms of angels or animals
Flavor variations to add to the dough: 1/2 teaspoon of anise extract or 2 of teaspoons anise seeds. You can also try to add 2 teaspoons of orange zest.
How to store Pan de Muertos
Store the Pan de Muertos in an airtight container at room temperature for up to 5 days. Once it starts to dry out you can toast it or use it for bread pudding.
Instructions
Mix 2 tbsp of flour with yeast and warm milk. Set aside for 30 minutes.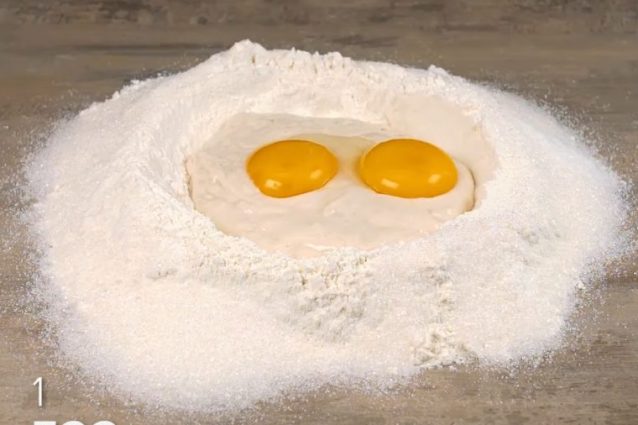 Using leftover flour make a well in the centre of it. Then add the starter, eggs, salt, sugar, zest and orange juice.
Knead until it comes together.
Add butter and continue kneading until it becomes smooth and slightly sticky (add a little more flour if needed).
Cover and set aside for 1 hour.
After resting, knead down the dough.
Cut a little dough from the ball to make decorations as shown in the video. Re-shape the dough into a smooth ball, brush it with some water, add decorations on top and leave it to rise for 30 minutes.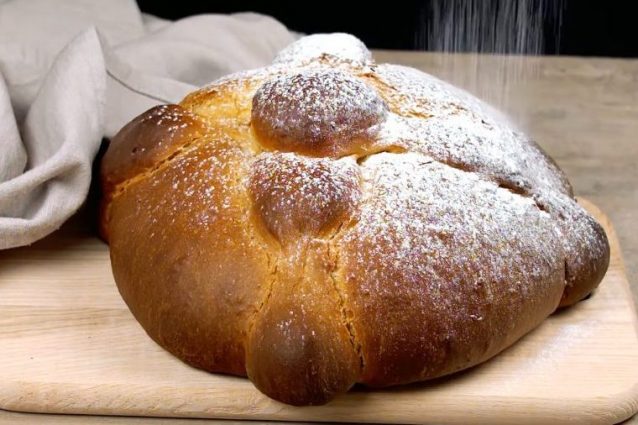 Bake at 170C/340F for 35-45 minutes. Serve dusted with powdered sugar.
Notes
If you find it difficult to shape, you can also make small balls and just place them on the bread in a cross pattern to get a knobbly look.