Patatas Bravas, or potatoes in bravas sauce, are an easy Spanish tapas recipe to make fried potatoes with sauce. Potato cubes are precooked, then fried until crispy, and covered with a spicy, paprika seasoning. It's then topped with a spicy tomato-based sauce, which adds even more flavor. Each bite is crispy on the outside, and soft on the inside, and they're packed with flavor.
Serve it as an appetizer, a side dish, or even just a snack. Serve it with the spicy bravas sauce and you'll have guests coming back for more! All you need is fresh potatoes, some seasoning, and hot oil to make this crowd-pleaser!
What are Patatas Bravas?
Patatas bravas is a dish native to Spain. This recipe is usually served as tapas, a classic Spanish appetizer or snack which can be enjoyed in typical bars while sipping a drink. Already popular in the 1950s in Madrid and Toledo, patatas bravas are delicious and super easy to make.
The name means "spicy potatoes" in English which is perfect for describing these bold, tasty potato dish. It consists of large, irregular sized starchy potatoes that are cut into cubes, fried in oil, and served hot with a spicy sauce.
What is Patatas Bravas Sauce made of?
Bravas sauce is tasty, spicy and super easy to make. It is a creamy tomato and mayonnaise-based sauce that is enriched with garlic and spices such as paprika, salt, chipotle and cayenne.
How To Make Patatas Bravas
Prepare the potatoes. Wash and peel them, and slice them into 2 cm-large cubes. Add the spices to the water and bring to a boil. Cook the potatoes for about 5 minutes, then strain, and season.
The sauce is easy to make, you just blend everything together. Season the potatoes with spices and serve with the sauce and fresh parsley.
Tips For Homemade Patatas Bravas
Use Yukon gold potatoes for best results. For a more rustic look, leave the potato skins on.
To bake or grill it in the oven, placed the boiled potato cubes on a baking sheet and bake at 425°F for 30 minutes until golden and crispy.
You can also make it in the Airfryer. Place the precooked cubes in the Airfryer basket and cook at 400°F for 20 minutes.
You can make the spicy bravas sauce ahead of time and slightly heat it before serving with the fried potatoes.
For a even more delicious recipe, add chorizo to this patatas bravas dish.
What To Serve With Patatas Bravas
Serve the potatoes with the bravas sauce. If you want to turn it into a light meal, serve it with a fried egg on top. Or you can serve it as a side alongside a main meal such as smoky chicken.
How To Store Patatas Bravas
Store leftovers in the fridge for up to 4 days, in an airtight container. Reheat in the microwave or the Airfryer.
Can You Freeze Homemade Patatas Bravas?
To freeze, allow the potatoes to cook completely. Place in a freezer-safe container and store for up to 3 months.
Allow to thaw in the fridge overnight and reheat in the microwave.
Ingredients
seasoning
parsley, chopped, for serving
Instructions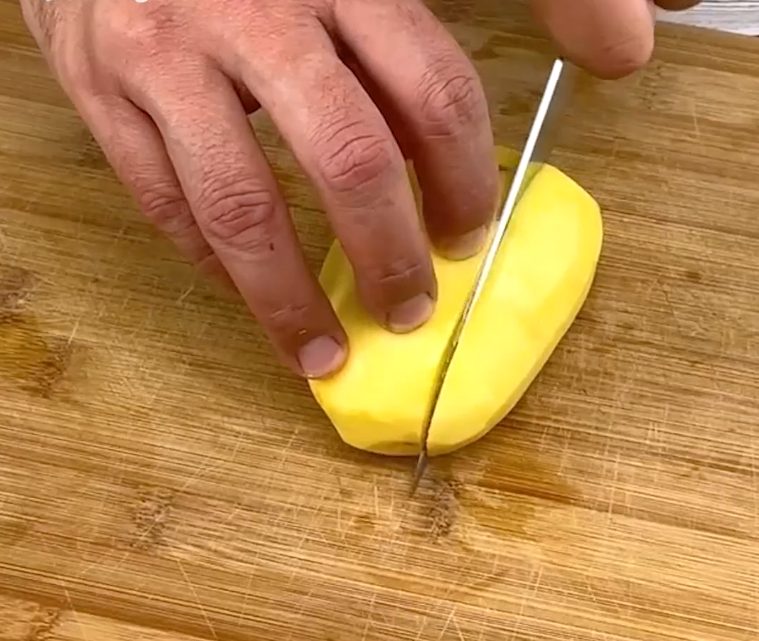 Peel the potatoes and cut them into 2 cm-large cubes.
Peel the potatoes and cut them into 2 cm-large cubes.
Add bay leaves, salt, paprika, cumin in a pot with hot water and bring to a boil. Pour in the cut potatoes and cook for 5 minutes.
Remove from the water.
Add bay leaves, salt, paprika, cumin in a pot with hot water and bring to a boil. Pour in the cut potatoes and cook for 5 minutes.
Strain.
Fry the potatoes in vegetable oil until golden brown. Place in a bowl.
Mix together salt, paprika, chipotle powder, and pepper. Sprinkle the spice over the potatoes and mix well.
Place minced garlic, paprika, cayenne pepper, chipotle powder, tomato paste in a blender and blend. Add mayonnaise, vinegar, and blend again. Pour the brava sauce over the potatoes and sprinkle with parsley.