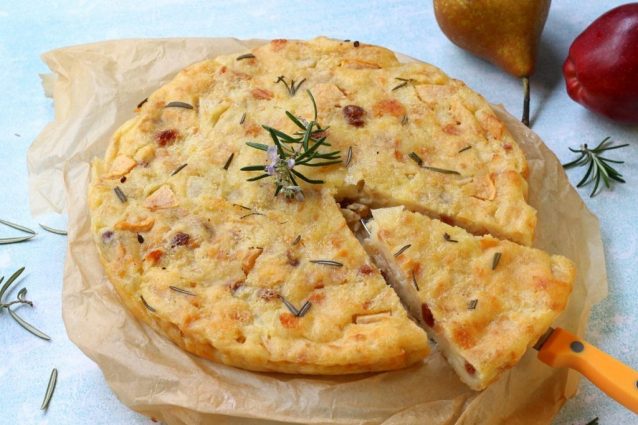 ingredients
Stale bread

180 g (1 ¾ cups)

Milk

400 ml (1 ¾ cups)

• 49 kcal

Granulated sugar

50 g (1/4 cup)

Butter

40 g (1/5 cup)

• 717 kcal

Raisins

30 g

Flour type 00

2 tbsp

Egg

1

• 130 kcal

corn flour

1 tbsp

Apple

1

pear

1

Lemon zest

Fresh rosemary
Calories refers to 100 gr of product
Pear and apple bread pudding is a typical dessert of the Lombardy tradition, in Italy. Considered in the past as "panettone cake of the poor", it is a recipe with humble origins, made with poor ingredients and created to recycle stale bread. Once rehydrated in milk, it is mixed with eggs, sugar, a pinch of flour and fresh and dried fruit, which will keep it soft and pleasantly moist. Adding butter flakes and fresh rosemary just before baking will make it fragrant and golden on the surface. Quick and easy to make, let's find out how to prepare pear and apple bread pudding by following our recipe step by step and enjoy it as a genuine snack or as a delicious dessert.
How to make Pear and Apple Bread Pudding
Break up stale bread with your hands, trying to get rather small pieces, and collect it in a large bowl (1).
Add warm milk (2) and then mix, making sure the bread is perfectly soaked. Let it rest for half an hour, then mash everything with a fork.
Pour in the sugar and the lemon zest, finely chopped (3), and mix well. Incorporate the egg and finally the flours.
Add the raisins, soaked in water and well squeezed, and finally the apple and pear, peeled and cut into cubes (4).
Pour the mixture into a 22 cm diameter mold, lined with a sheet of parchment paper (5), and level well.
Spread the rosemary needles and the flaked butter on the surface (6).
Bake it in a static oven at 180 degrees C for about an hour. After the cooking time will be elapsed, remove pear and apple bread pudding from the oven (7) and let it cool completely.
Take it out of the mold and serve it at room temperature (8).
How to store Pear and Apple Bread Pudding
Pear and apple bread pudding can be stored under a glass bell jar or in a special airtight container for at least 3-4 days at room temperature.