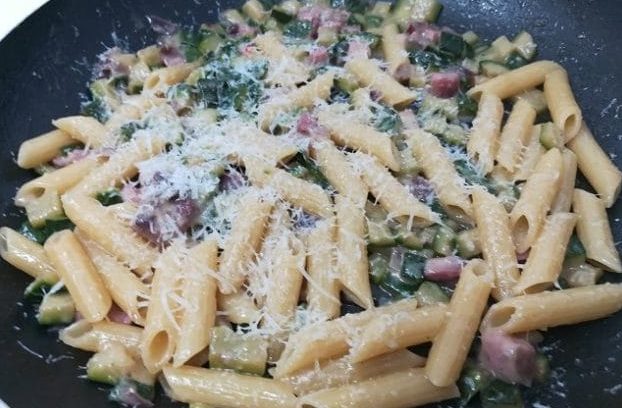 ingredients
Penne rigate

300 gr

Zucchini

300 gr

Speck

200 gr

Onion

80 g

Pecorino cheese

40 gr

Parmesan cheese

40 gr

Extra-virgin olive oil

2 tablespoons

Sea salt

as much as it is needed

Black pepper

as much as it is needed
The pennette with zucchini and speck is a first course made with zucchini cooked in a pan along with speck and finely chopped onion. The dish is mixed with Parmesan cheese and Pecorino cheese to give it an enveloping and decisive flavor.
Cut the speck into equal cubes, removing the rind and excess fat (1). Wash the zucchini, cut them first in half, then into strips about one and a half centimeters wide and finally into cubes possibly of the same size (2). Finely chop the onion, brown it in a non-stick pan with two tablespoons of extra-virgin olive oil and cook it for about 2 minutes (3).
Once the onion has completely browned, add the zucchini and brown for about two minutes (4). Add half a glass of water together with salt and pepper and lower the flame level. Continue cooking for about 10 minutes to soften the zucchini. Add the diced speck (5). Cook the pennette in plenty of salted water and, two minutes before the end of cooking, transfer them to the pan adding a ladle of cooking water, and plenty of pecorino cheese and Parmesan cheese. Finish cooking in a pan mixing all the ingredients. Serve the pennette with zucchini and speck with a sprinkling of cheese and some freshly ground black pepper (6).
Tips
Cut the speck into cubes of the same size to obtain a uniform cooking in the pan and remove the excess fat that would then be unpleasant to the palate.
Remove the excess white part of the zucchini because it contains a lot of water that would be released into the pan, watering down the recipe and giving an unpleasant spongy consistency to the zucchini.
Brown the onion over medium heat, making sure to brown it but do not burn it, adding a spoonful of water if necessary.
Lower the flame while cooking the zucchini and add the water, thus giving them time to soften.
At this point, add salt and pepper so that the zucchini are not then tasteless.
Add the speck only when the water has evaporated so that it can brown in the pan and do not cook for the boiling water becoming too soft.
As an alternative, you can sauté the speck in a separate pan and add it in the dish to make it extremely crisp.
Add a ladle of cooking water to mix pasta with the cheeses so that the starch contained in it helps to bind the whole.
Preservation
The pennette with zucchini and speck can be stored for a day at most by covering them with food foil and keeping them in the fridge.