ingredients
Beef steak

½ Lb, finely chopped

Provolone cheese

6 slices

Onion

½, large

Mushrooms

½ cup

Green bell peppers

3, large

Cloves Garlic

2

Olive oil

2 tbsps

Butter

2 tbsps

• 717 kcal
Calories refers to 100 gr of product
If you look for filled peppers, you will find many recipes, vegetarian or full of beef, chicken and many others ways from Asia or Europe, to mention some ways. In this recipe presented below, the peppers are filled with cheese, beef and mushroom, in a flavor combination perfect for a lunch with couple for a double date. The main ingredient, the roast beef, is a traditional tender beef cut, which origin comes from the United Kingdom, and it is serve in many ways, but this time it was chosen for a lunch. Almost everybody loves cheese and, in this recipe, you will feel the soft and smoked flavor (if you choose a smoked provolone) in two ways, soft inside the peppers and gratin over them, making a good match with the beef and mushrooms. You can make your version just keeping the instructions provided and make the date a special one.
Instructions
The first activity you have to do, is preparing all the ingredients, starting with the beef. Cut the beef into thin slices and then those slices into thin strips, and preserve. Mince the garlic cloves and preserve. Chop the onions and mushrooms finely, and preserve. Cut the peppers longitudinally, remove the seeds and proceed to wash the halves very well. Preheat the oven to 200°C / 400 °F.
Take a baking tray and cover it with wax paper. Now take a medium frying pan and place over medium heat, add the butter and the olive oil, and stir to melt the butter.
Once the butter and oil are hot, add the onion in order to sauté and caramelize it. Then add the mushrooms and the garlic. Cook until the mushrooms are well caramelized (it will take about 20 to 30 minutes). Now, proceed to add the meat into the frying pan and keep cooking for 5 to 10 minutes. Retire the onion, garlic, mushrooms and beef mixture from heat and preserve. Add the pepper halves to the baking tray, previously covered with wax paper. Then fill the pepper halves as follows: first add a slice of provolone cheese in each one.
Now add the meat mixture until the pepper halves are full. To finish, cover with another slice of provolone cheese each pepper halves. Proceed now to introduce the baking tray in the oven, and bake your peppers until the cheese, placed on top, turns golden (it will take about 15 to 20 minutes).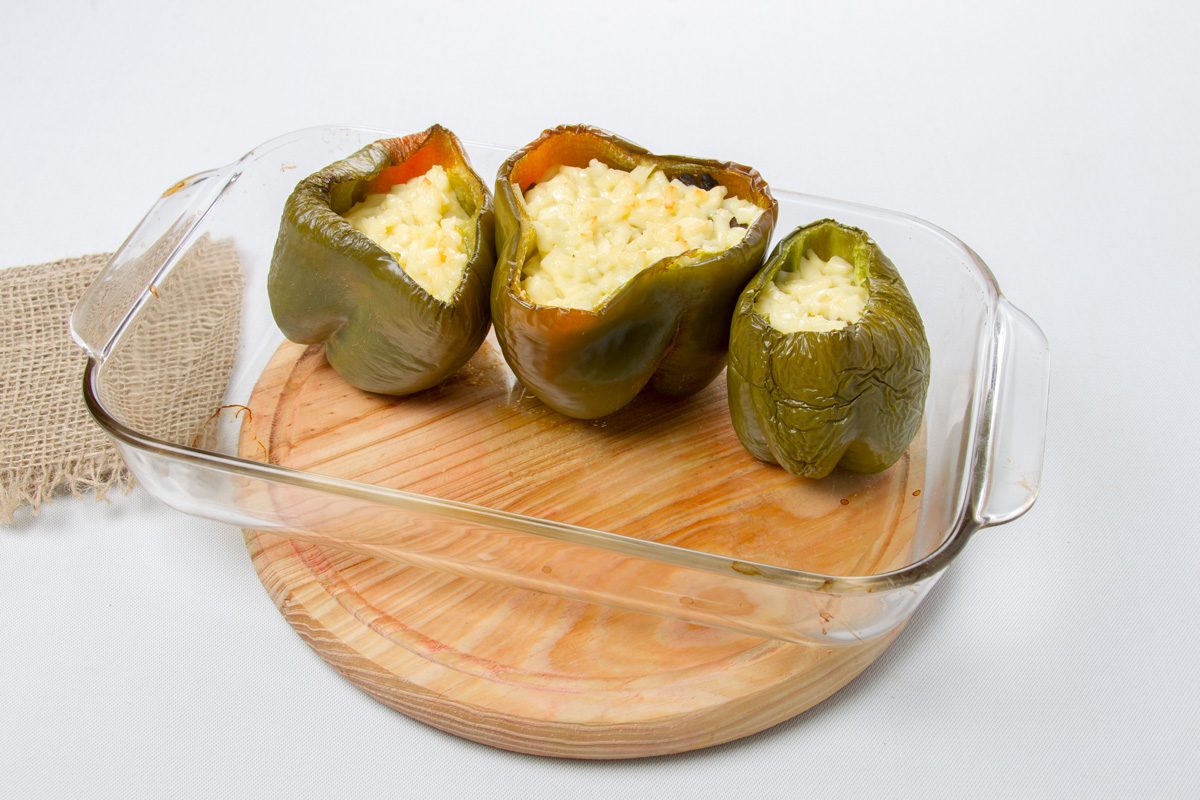 When the cheese is golden retire the pan from the oven. And now your peppers are ready to be served Serve them when they are still hot.
Nutrition Facts Servings: 4 Amount per serving   Calories  457 Daily Value* Total Fat 31.5g 40% Saturated Fat 15.6g 78% Cholesterol 105mg 35% Sodium 574mg 25% Total Carbohydrate 11.1g 4% Dietary Fiber 2.1g 7% Total Sugars 5.3g   Protein 33.7g