Prepare this special cake and it'll be a hit! Simple and colorful, your guests will be very happy to taste it.
Ingredients: 3 eggs, 300g flour, 250g sugar, 1 packet of baking powder, 100ml pineapple juice, 100ml milk. Pineapple slices, cherries.
Directions:
1)Beat the eggs with a pinch of salt and the sugar, add the milk, pineapple juice and sifted flour.
2) Mix the ingredients well and add the baking powder.
3) In the meantime, butter a bundt cake pan, pour in the brown sugar and add the slices of pineapple alternating with the cherries in syrup.
4) Pour the mixture over the fruit, bake at 180°C for 40 minutes.
5) Flip the cake over once it has cooled down and your awesome upside down bundt cake is ready.
Try also this pineapple upside-down cake: unique and delicious, it's a perfect tasty snack!
Ingredients: 2 egg, a pinch of salt, 120g brown sugar, ½ cup vegetable oil, 200g flour, ½ cup milk, 10g baking powder, pineapple, as needed, candied cherries, as needed.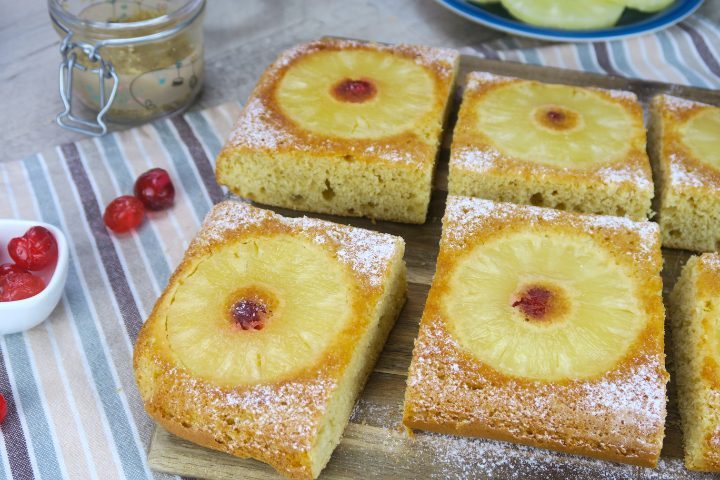 Directions:
1) Beat the eggs together with the salt. Add the sugar, oil, milk, and the flour. Mix the cake batter until fluffy, then blend in the baking powder.
2) Sprinkle some brown sugar onto the inside of a cake pan, place the pineapple slices over the brown sugar and pour the batter over them.
3) Bake at 180° for 30 minutes.
4) Dust with some powdered sugar.