ingredients
Butter

190 g (6.7 oz), room temperature

• 717 kcal

Powdered sugar

190 g (6.7 oz)

Eggs

3

• 130 kcal

Flour

190 g (6.7 oz)

Baking powder

1 tbsp

• 156 kcal

Coconut

50 g (1.7 oz) shredded

Cream Cheese

300 g (10 oz)

Powdered sugar

115 g (4 oz)

Whipped cream

350 g (12.3 oz)

Pineapple

1/2 , chopped

Sugar

50 g (1.7 oz)

• 470 kcal

Swiss or Italian meringue
Calories refers to 100 gr of product
This pineapple meringue cake looks like a pineapple, complete with golden spikes of homemade meringue. But in fact, it's a moist, flavorful cake layered with cream cheese frosting and caramelized fresh pineapple. Guests will surely be amazed by your baking expertise when you slice into this beautifully layered cake topped with a fresh pineapple crown for good measure.
How to Make Pineapple Meringue Cake
To make this cake, first prepare the cake by blending the powdered sugar with butter, eggs, flour, and baking powder with a handheldCCc electric mixer until smooth. Transfer the batter to a  round cake pan and bake for one hour, or until the cake is fully cooked.
While the cake is cooking, slice the top and sides off of a whole pineapple. Cut it into planks then dice into ¼-inch squares.
Place the cubed pineapple in a skillet with the sugar and cook over medium-low heat until the fruit is caramelized.
Meanwhile, in a mixing bowl, combine the cream cheese and powdered sugar until smooth with a whisk. Fold in whipped cream until light and fluffy.
When the cake is finished baking, remove it from the oven and let cool for 10 minutes in the pan. Invert the cake onto a wire rack to cool completely. Then transfer the cake to a cutting board and slice it into three thin layers, starting on the bottom. Spread the cream cheese frosting on the largest bottom layer, place the next cake layer on top, more frosting, and finally the smallest cake layer. Fill with caramelized pineapple in between each layer.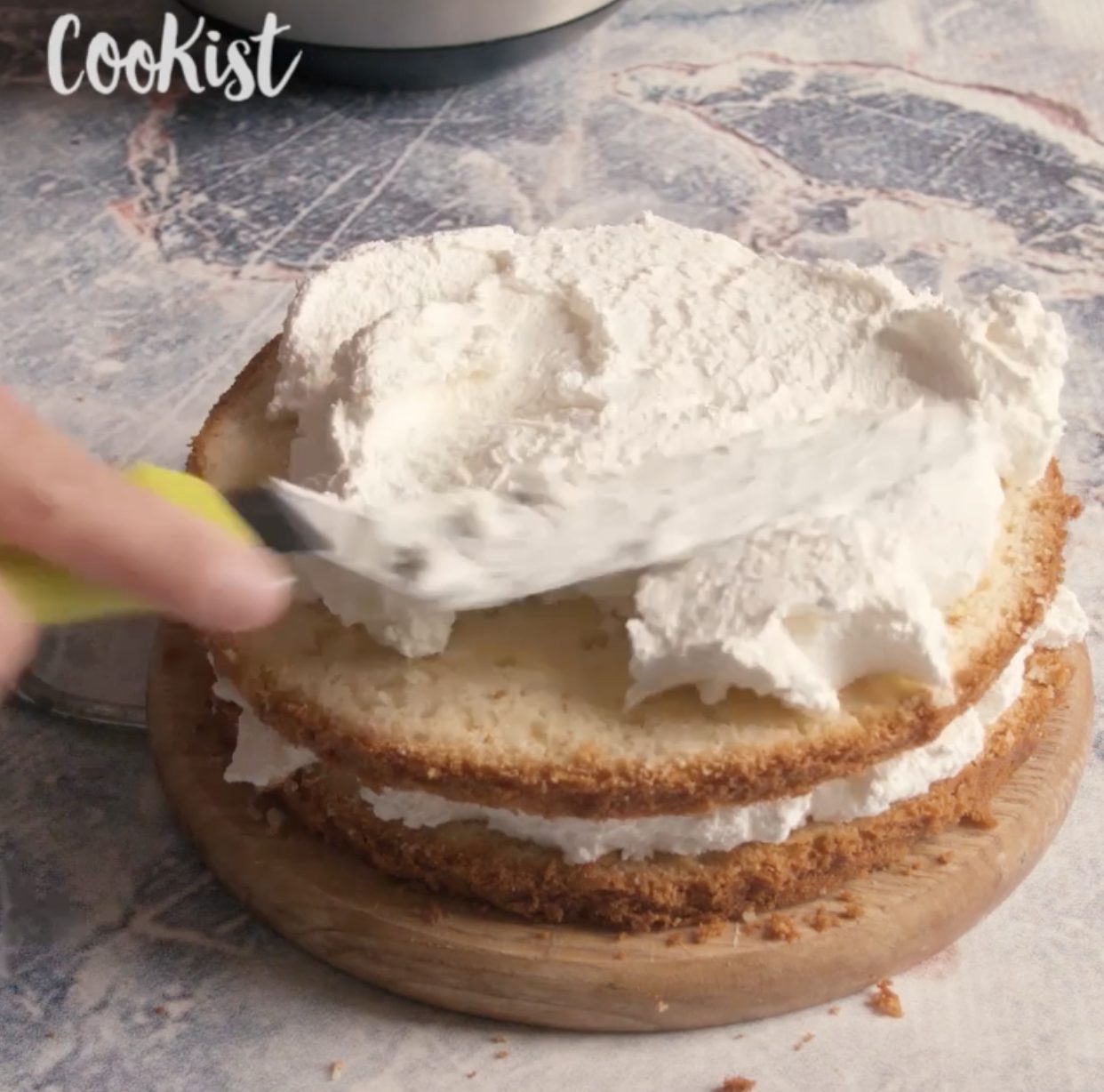 Trim the sides of the cake with a sharp serrated knife to shape it into a pineapple. Frost the sides of the cake with meringue using a piping bag. Place the top of the fresh pineapple on top of the cake and pipe meringue around the edges so it looks seamless.
Use a blowtorch to gently toast the meringue, being sure to keep the torch moving to avoid burning.
METHOD
Preheat oven to 160C/320F (fan). Prepare a small round cake pan by greasing and covering it with parchment.
For the cake use a hand mixer to beat soft butter and powdered sugar until light and fluffy. Start adding eggs and flour in three portions, alternating between them. Add baking powder and coconut. Whisk to combine.
Pour into the cake pan and bake for 60 minutes. Leave to cool down completely.
Meanwhile, make a simple cream by whisking cream cheese with powdered sugar and folding some whipped cream in.
To caramelize pineapple, sprinkle some sugar on top of the slices and leave them to brown over medium heat.
Cut cooled down cake into 5 layers. Spread the cream and add some pineapples between each of them, stacking layers altogether as shown on the video.
Cut off the excess to give the cake a pineapple shape.
Use meringue to decorate the surface. Use a blowtorch to brown it. Add pineapple stem on top to decorate.
Notes
Here are some helpful tips to make pineapple meringue cake at home:
Choose a ripe pineapple that's heavy and fragrant. Be sure to let the cake cool fully before slicing, it's still baking for a while after you remove it from the oven. Use room-temperature cream cheese for the frosting.