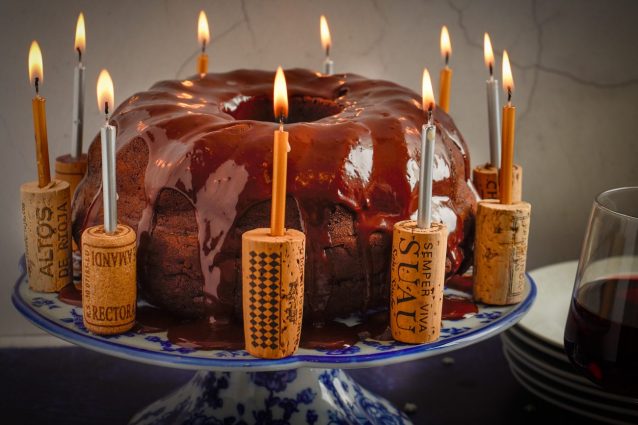 ingredients
Butter

12 tablespoons, room temperature

• 717 kcal

Brown sugar

1/4 cup

Granulated sugar

3/4 cup

Eggs

3 large

• 130 kcal

Vanilla Extract

2 teaspoons

plain/all-purpose flour

2 1/4 cups

Unsweetened cocoa powder

3/4 cup (not Dutch-process)

Baking powder

2 teaspoons

• 156 kcal

Baking soda

1 teaspoon

Salt

1/2 teaspoon

• 1 kcal

Yogurt

1/2 cup

Pinot Noir

3/4 cup

Dark Chocolate

5 ounces

Pinot Noir

1/3 cup
Calories refers to 100 gr of product
Red wine and dark chocolate are supposed to be good for you – at least that's my excuse for making and enjoying this beautiful bundt cake!
Adding juicy Pinot Noir wine to this chocolate cake gives it a moist, tangy kick, and the dark chocolate and red wine ganache just tops it off!
This cake would be ideal for a wine-lover's birthday party, or for any celebration.
Instructions
Preheat oven to 350°F/ 160 C fan/ gas mark 4.  Grease a large bundt pan and set aside.
In a large bowl, whip butter, and both sugars on high for 2 minutes.
Add in eggs one at a time, mixing in between each addition. Add in vanilla extract
Sift together flour, cocoa powder, baking powder, baking soda, and salt.
Carefully incorporate half into the wet ingredients, then add in the yogurt and pinot noir, mixing slightly. Last, add the rest of the dry ingredients and mix until you have a thick, smooth batter.
Pour into prepared bundt pan and try to get the top as smooth as possible.
Bake for 40 minutes, or until a knife inserted in the center of the cake comes out clean. Allow to cool before inverting and topping with the ganache.
To make the ganache, heat chocolate over a double boiler on low heat, or in a heatproof bowl over a pan of simmering water.
Once fully melted, whisk in ⅓ cup red wine. Mixture may congeal slightly – if it does, add in a tablespoon more of wine. Pour over cake and serve.