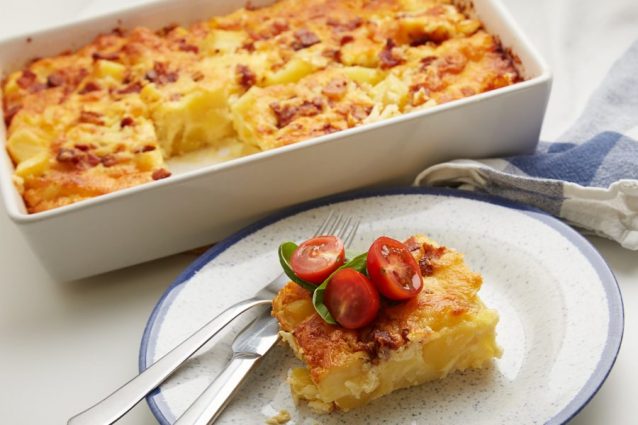 ingredients
Potatoes

1 bag frozen diced

Cheddar Cheese

2 cups shredded

Bacon

3 to 4 slices , cooked and crumbled

Eggs

4

• 130 kcal

half-and-half cream

¾ cup

tomato or several cherry tomatoes

1 plum finely chopped, if desired for garnish
Calories refers to 100 gr of product
If you are looking for a simple but tasty and filling dinner, then look no further than this potato and egg casserole. It uses ready chopped frozen potato cubes, which are then covered with crumbled cooked bacon, a rich egg mixture, and topped with cheese.
It's then baked in the oven until the egg and potatoes are cooked, and the cheese is golden and bubbling. You can eat this casserole hot but it's just as good cold, so makes an ideal addition to a picnic or bag lunch.
Instructions
Preheat oven to 375°F/170C fan/gas mark 5.
In ungreased 10×6-inch (1 1/2-quart) to 12×8-inch (2-quart) glass or ceramic baking dish, combine the bag of frozen potatoes, 1 1/2 cups of the shredded Cheddar cheese and the 3 to 4 slices cooked and crumbled bacon. Set aside.
In a medium bowl, beat 4 eggs and 3/4 cup half-and-half. Season with salt and pepper, but don't forget that the bacon will add more salt to the dish too.
Pour egg mixture evenly over potatoes in baking dish. Sprinkle remaining 1/2 cup shredded Cheddar cheese over top.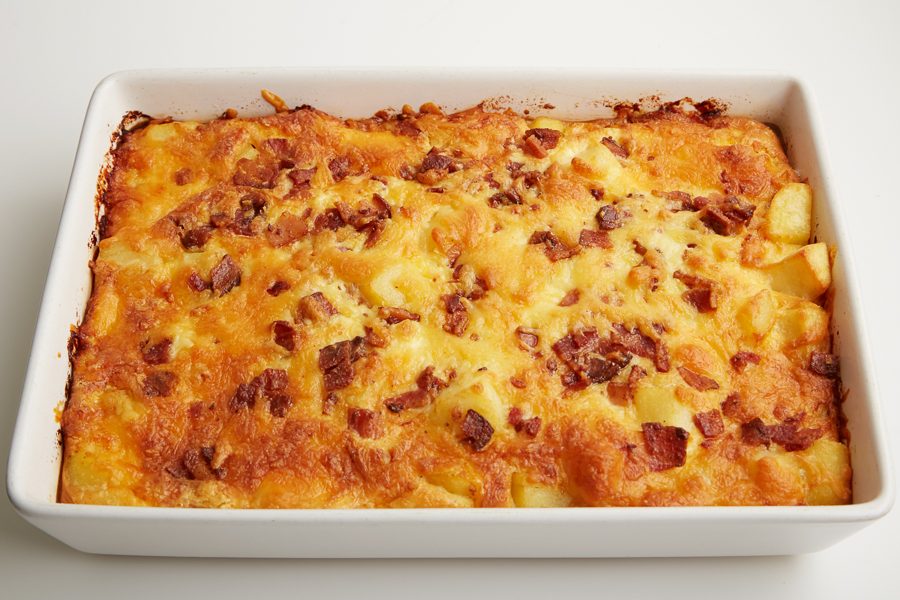 Bake for 1 hour, or until set and knife inserted in center comes out clean. Just before serving, add some finely chopped tomatoes to the top, and some basil leaves if desired.
Notes:
For a different flavor in this cheesy casserole, you can use frozen roasted potatoes & broccoli, or try adding some chopped peppers or smoked paprika to the dish before cooking.