ingredients
For the dough

Flour type 00

250 g (2 cups)

Milk

100 ml (2/5 cup)

• 49 kcal

Extra virgin olive oil

80 ml (1/3 cup)

White wine vinegar

1 tsp

Parsley

For the stuffing

Potatoes

400 g

Egg

1

• 130 kcal

Grated parmesan cheese

50 g

Fine salt

Ground pepper

For the egg wash

Egg

1

• 130 kcal

Milk

• 49 kcal
Calories refers to 100 gr of product
Potato flower tartlets are a fun and impressive appetizer, perfect for the spring table. Two discs of a versatile dough made with flour, milk, extra-virgin olive oil and white wine vinegar is baked and then stuffed with a mix of potatoes, eggs and grated parmesan cheese. Once created the easy  flower shape, you just have to bake the potato flower tartlets in the oven until golden and fragrant. A truly delicious and irresistible idea, perfect to be served hot or at room temperature for a dinner with friends or an outdoor picnic. So let's find out how to prepare perfect and tasty potato flower tartlets by following our recipe step by step.
How to make Potato Flower Tartlets
Collect the flour in a bowl, pour the extra-virgin oil in the center (1) and start kneading with a fork.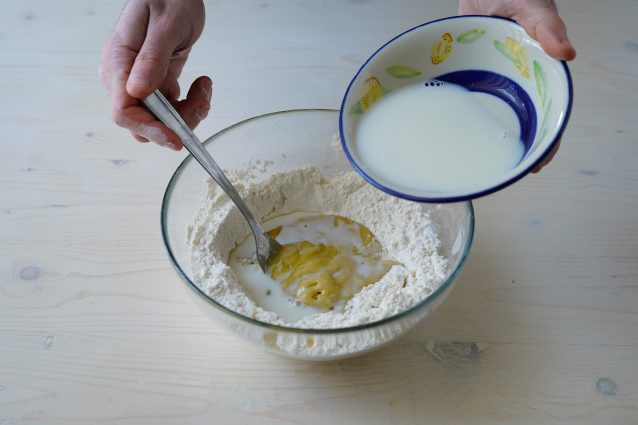 Mix the milk with the white wine vinegar, add it to the mixture (2) and mix again.
Transfer the dough to a work surface and knead it again, until you will get a smooth and homogeneous dough (3). Wrap the dough in cling film and let it rest in the refrigerator for half an hour.
Cook the potatoes in boiling water, then drain and let them cool. Peel and mash them with a potato masher, collecting the puree in a bowl (4).
Once cold, add the egg, chopped parsley and grated parmesan cheese (5). Season with fine salt and ground pepper and mix well.
After the resting time has elapsed, divide the dough into 4 pieces. Using a rolling pin, roll them out on a lightly floured pastry board and cut into discs (6).
Collect the stuffing in a pastry bag and distribute it in the center of the disc; form a strip along the edges, leaving 2 centimeters from the center, and cover with the second sheet (7).
Gently press the center with a cup, to let all the air out (8), and then seal the edges well.
At this point, form the petals of the flower. With a knife, cut the dough first into four and then into eight parts, making sure that the cut does not reach the center.
Twist the petals on themselves and spread them slightly with your hands (10). Beat the egg with a drop of milk and brush the surface of the flower; transfer it to a baking tray, lined with a sheet of parchment paper, and bake at 200 degrees C for 30 minutes.
After the baking time has elapsed, take the potato flower tartlets out of the oven and let them cool slightly, then bring them to the table and serve (11).
How to store Potato Flower Tartlets
Potato flower tartlets can be stored in the refrigerator, closed in a special airtight container, for about 2-3 days. Before eating, heat them slightly in the oven, to give them a nice crunchiness.