ingredients
Chickpea flour

½ cup

Almond milk

1¼ cup

Nutritional yeast

1 tbsp

Yellow Mustard

½ tsp

Salt

½ tsp

• 1 kcal

Baking powder

½ tsp

• 156 kcal

Potatoes

1 cup, peeled and cubed

Kale

1 cup, finely chopped

Medium onion

1, peeled and roughly chopped

Black pepper powder

¼ tsp

Orange zest

1 tbsp, grated

Rosemary

¼ tsp

Oregano

¼ tsp

Garlic

1 tsp, grated

Salt

¼ tsp

• 1 kcal

Basil

¼ tsp

Paprika

¼ tsp
Calories refers to 100 gr of product
For some reason, eating plant based meals makes me feel so light and energized. I feel plant based meals are less harsh on our system and we should try it out more often… let your internal system get the 'yogic' experience. I have this belief, not backed by any study or something, that eating plant based foods is calming for your digestive system, much like the way yoga calms you down physically and mentally.
This vegetarian version of the frittata is very simple and though I baked this one to get a cleaner looking frittata slice. Ideally, prepare the potato kale onion frittata in a small to medium sized pan as it will be easier for you to flip it and cook evenly on both sides. You may also prepare it in an oven safe skillet, on which you may flip the frittata to cook on both sides and then you can later transfer to the oven to give it a nice final crisp all over!
Instructions
Preheat the oven to 175 degrees C and lightly grease a small baking dish. Set aside. To the food processing jar add the chickpea flour, almond milk, nutritional yeast, yellow mustard, salt, baking powder, and process everything well until the mixture is smooth and without any lumps.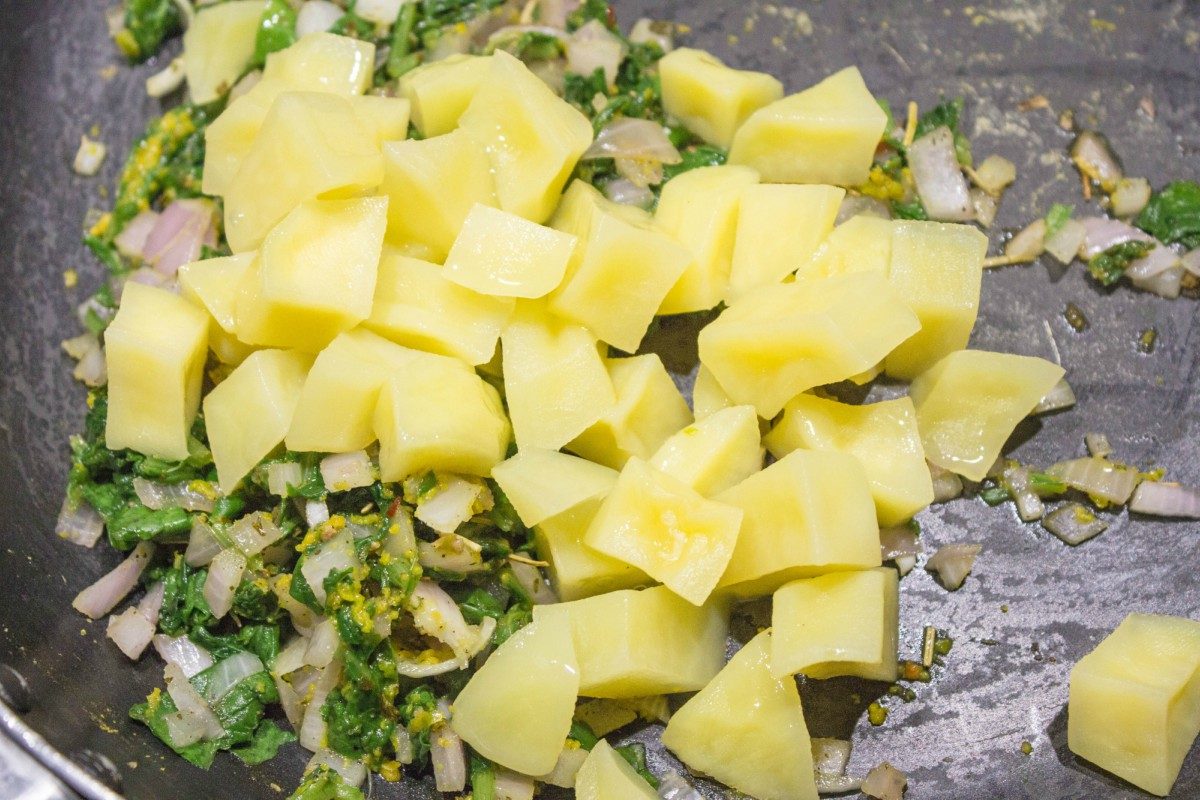 Let the mixture stay in the processing jar for 5 to 10 minutes. Meanwhile, cook the potato cubes in a microwave safe dish and microwave it for about 5 minutes or until the potatoes are just tender. In a non stick pan, sauté the chopped kale, onion for a minute while stirring continuously.
Season the vegetables with black pepper powder, rosemary, oregano, orange zest, garlic, salt, basil, paprika, stir everything well for a minute. Add the steamed potatoes to the vegetable mixture and give it a nice mix. Pour the chickpea flour mixture over the vegetables and give everything a nice stir.
Transfer the mixture in to the prepared baking dish and bake the frittata at 180 degrees C for about 40 minutes or until it sets well. Slice, serve and enjoy!
Tips
Alternatively, you may steam the potato cubes in a traditional food steamer instead of a microwave. You may also cook the frittata on both sides in the pan itself, but make sure you do not break it while flipping the frittata. Maintain the baking temperature and you might need to keep a watch in the final minutes of baking.
Nutrition Facts
Nutritional information (per serving): 115 Calories, 1.9g Total fat (0.2g Saturated fat, 0.3g Polyunsaturated fat, 0.5g Monounsaturated fat), 0mg Cholesterol, 576.9mg Sodium, 353.8mg Potassium, 19.7g Total carbohydrates (4.5g Dietary fiber, 3.7g Sugars), 5.8g Protein