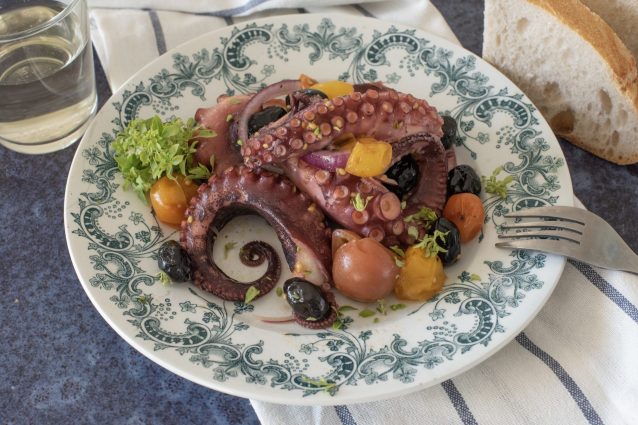 ingredients
For the fish

Octopus

1 kg

Celery stick

1

White onion

1

Carrot

1

Salt

to taste

• 1 kcal

Pepper

a few grains
For the salad

Cherry tomatoes

150 gr

Red onion

1

Vinegar

1 tbsp

Black olives

80 gr

Basil

1 tuft

Extra virgin olive oil

Salt

• 1 kcal

Pepper
Calories refers to 100 gr of product
In our recipe Pulpo Gallego is cooked in a pressure cooker with the aromatic herbs, cut into small pieces and then seasoned with cherry tomatoes, lightly crushed to release all their juice, olives and basil. The result will be a very tender preparation, which almost melts in the mouth thanks to the cooking technique used, and with a Mediterranean scent. Catalan octopus can be served warm or cold – depending on the season – as an appetizer or main course, also accompanied by a side dish of vegetables and a few slices of lightly toasted bread, if you prefer. Simple and very refined, Catalan octopus is also perfect for the Christmas Eve dinner; in this case, use natural cherry tomatoes. So let's see how to prepare Catalan octopus by following all our tips step by step.
How to make Pulpo Gallego, the Catalan octopus
Clean the octopus; remove the central beak and wash it carefully under cold running water.
Peel the white onion and clean the celery and carrot. Collect them in the pressure cooker.
Add the octopus, cover with water and then add salt and pepper. Close the pressure cooker, put on the fire and cook for 30 minutes starting from the whistle.
Meanwhile, peel the red onion, slice it thinly and put it to soak in water and vinegar for a few minutes. Wash the cherry tomatoes and cut them in half.
After the cooking time will be elapsed, remove the pressure cooker from the heat and let it vent; remove the lid, remove the octopus and cut it by dividing its tentacles.
In a bowl, mix the octopus with the cherry tomatoes, olives and onion, well drained. Season with a drizzle of oil and a pinch of salt and pepper.
Transfer the Catalan octopus and salad to individual plates, garnish with basil and serve cold or warm.
How to store Pulpo Gallego
Catalan octopus can be preserved in a special airtight container for a maximum of 1-2 days in the refrigerator.