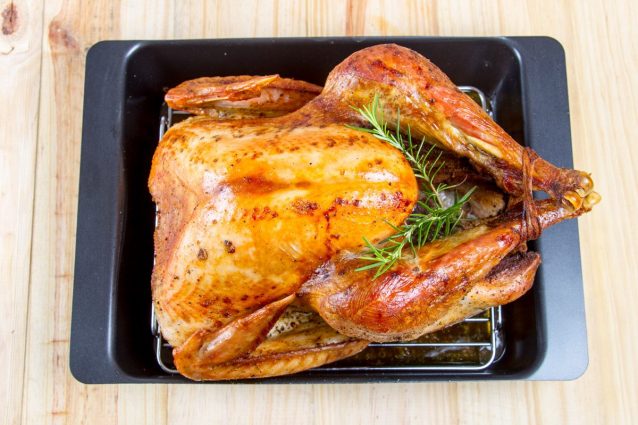 ingredients
Turkey

1, 10 to 12 pounds

Garlic

6 cloves

Coarse salt

3 tbsp

Ground oregano

1 tbsp

Paprika

1 tbsp

Freshly ground black pepper

1 1/2 tbsp

Butter

1 cup

• 717 kcal

White cooking wine

1 cup

Rosemary

3 sprigs

Lemon

1 (to clean the turkey)
Calories refers to 100 gr of product
Oven roasting is simple, convenient and delicious, no wonder it's so popular!
Roasting is a dry heat cooking process and is one of the most popular methods used for cooking turkey. The roasting process tends to evaporate and reduce the moisture content of any type of meat, shrinking the fibers and making the meat tough, so it is important to follow the proper steps for roasting to ensure the best results. When roasted properly, turkey meat is moist and tender with excellent flavor.
Baking or roasting?
If you're cooking food that has a solid structure, like any type of meat or vegetables, no matter the temperature of the oven, you'll roast it.
If you're cooking food that doesn't already have a solid structure, but will after it's cooked, like muffins, cake, bread, and casseroles, the proper method is baking.
Simple enough, right?
Open the lemon in half, squeeze and carefully rub the turkey, even into the cavity. Be very careful, you should not break turkey skin. After five minutes, rinse the turkey with water and dry with paper towels. It is important to dry it.
In a mortar, crush garlic, pepper, paprika, oregano and salt. Top the turkey with this mixture.
Place the turkey in a deep container and add with the wine. Introduce the rosemary branches into the cavity of the turkey. It is very important that the turkey absorbs these flavors for at least 4 hours. Cover with foil and store in the refrigerator.
Remove the excess liquid, place the turkey on the rotisserie and apply a first layer of melted butter with a cooking brush.
Preheat the oven to maximum temperature for at least 20 minutes, then introduce the uncovered turkey and cooking for 30 minutes, you should be careful not to overdo it. Remove from the oven, apply another layer of butter and return to bake for 2 hours at 150 F. It is desirable to apply at least three layers of melted butter.
If the size of your oven allows, you can change the position of the rotisserie tray to make your turkey cook more evenly.
When it is all golden and the meat is detached from the bones of the legs, the turkey will be ready. Remove and serve to taste. Do not discard the liquid from the bottom of the rotisserie, you can make a sauce for the turkey.