ingredients
Graviera cheese

250 gr

Water

2 tbsps

Refined flour

1/4 cup

Dried mixed herbs

1/2 tsp

Extra virgin olive oil

1/4 cup

Lemon wedge

1, to serve

Fresh parsley leaves

1 tsp, finely chopped, to serve
The cheesy sticks or saganaki is such a quick and easy snack preparation that you will end up preparing it almost every time you invite your loved ones over. You may add endless combinations of flavors, herbs, and seasonings to the flour and tweak the recipe to your choice.
You may also replace the plain cheese with any spiced up hard cheese variation that is easily available in the stores these days. Add the saganaki to a bowl full of mixed greens and lemon juice to toss up a quick lunch meal salad.
Just keep your patience intact while you cook the saganaki on a low flame to get a great crust on the cheese.
Cut the cheese
Cut the hard cheese block in to one inch wide, half inch thick, and two inches long cheese slice.
Put the flour on a flat plate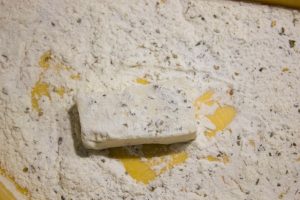 Moisten the cheese slices with a few drops of water. Make sure you rub water on the cheese slice all over very nicely. Put the flour on a flat plate or surface. Sprinkle the dried mixed herbs to it and roughly mix it together.
Heat a tablespoon of olive oil in a non stick pan and turn the flame to low heat. Dredge the moistened cheese slices in the herb and flour mixture one by one and transfer it to the hot pan.
Sear the cheese until golden brown in color. Flip the cheese to cook the other side of the cheese to golden brown. Upend the cheese to cook the edge of the cheese one side a time, to golden brown in color.
How to serve Saganaki
Serve the saganaki hot with lemon wedges and sprinkle the parsley on it. Enjoy!
Tips
You may coat the cheese slices in equal quantities of bread crumbs instead of flour as well. For bread crumbs you must dip the cheese slices in a beaten egg once before you coat the cheese with crumbs of bread.
Sprinkle a pinch of paprika and black pepper powder to add a bit of spice to the cheesy saganaki.
Add the olive oil to the pan one tablespoon a time instead of pouring the entire oil to the pan at one go.
Shake off the excess flour from the flour and herb coated cheese slices.
Nutritional information (per serving): 431 Calories, 35.8g Total fat (17.2g Saturated fat, 1.7g Polyunsaturated fat, 15g Monounsaturated fat), 65.6mg Cholesterol, 216.6mg Sodium, 43.4mg Potassium, 7.6g Total carbohydrates (0.3g Dietary fiber, 1.4g Sugars), 19.9g Protein