ingredients
Long sandwich bread

5 slices

Mayonnaise

as much as is needed

Cherry tomatoes

5

Already boiled shrimps

10

Capers

as much as is needed

Aromatic herbs

as much as is needed

Smoked salmon

120 grams

Butter

50 grams

• 717 kcal

Drained tuna in oil

100 grams

Mayonnaise

100 grams

Desalted capers

1 tablespoon

Anchovy in oil

1

Already boiled shrimps

100 grams

Mayonnaise

100 grams

Tomato paste

10 grams

Brandy liquor

½  teaspoon
Calories refers to 100 gr of product
The sandwich cake is a simple and very greedy appetizer to prepare that will leave everyone speechless. Just fill the slices of bread with the ingredients you love most, arrange them in layers and decorate as you like; in an instant you will have a tasty and impressive savory pie. In this recipe, we have chosen three different fish fillings (with salmon, tuna and shrimps), for a combination suitable for the summer and perfect to be served on the occasion of a summer buffet.
How to prepare the sandwich cake
Prepare the shrimps filling; mix the mayonnaise with the tomato paste and brandy (1).
Add the already boiled shrimps to the pink sauce (2) and mix well.
Prepare the tuna filling; lightly mash the capers and anchovies with a fork and add them to the mayonnaise; add the tuna, well drained and cut into small pieces, and mix perfectly (3).
Make the cake; spread the first layer of bread with half the butter (4).
Spread over about 60 grams of smoked salmon (5).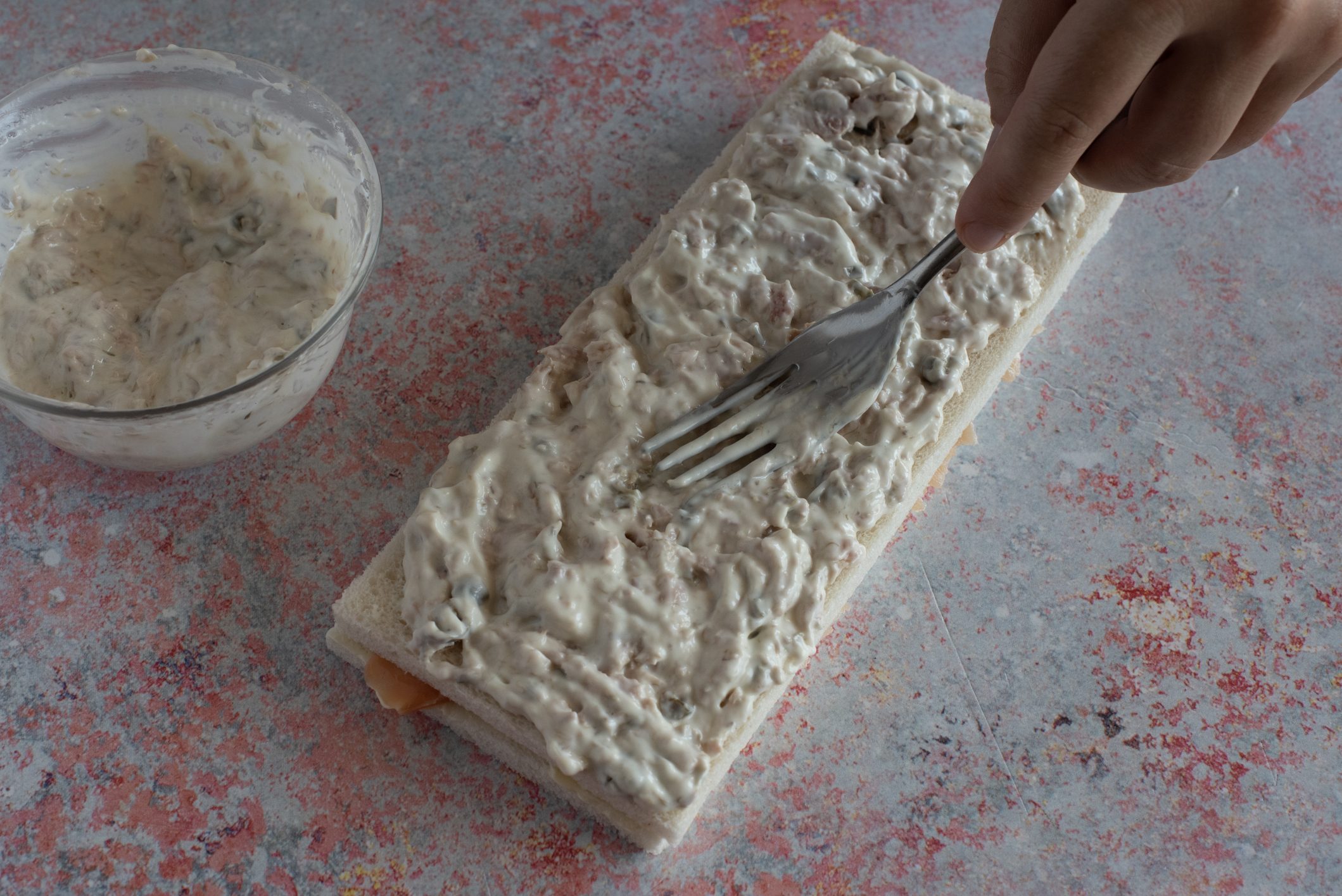 Cover with the second slice of bread and spread the tuna filling on top (6).
Cover with another slice of bread and spread over the shrimps filling (7).
Arrange another slice of bread on top, spread with the remaining butter, and finish with the other 60 grams of salmon. Cover with the last slice of bread, decorate as desired with sprigs of mayonnaise, cherry tomatoes, shrimps, capers and herbs and serve in slices (8).
Preservation
The sandwich cake can be preserved in the refrigerator for a maximum of 2 days, well covered with a sheet of cling film. Always decorate it just before bringing it to the table.