ingredients
All-purpose flour

2 cups

Salt

1/2 tsp

• 1 kcal

Baking powder

1 tbsp

• 156 kcal

Sugar

2 tsp

• 470 kcal

Cold butter

4 tbsp

cheddar cheese, grated

1 cup

scallions, diced, green part only

1/3 cup

bacon, crumbled

1/2 pound

Heavy Cream

3/4 cup
Calories refers to 100 gr of product
Tender, moist, with crisp, slightly crumbly edges, savory scones are a simple recipe that's great at breakfast, lunch, snack time, or a side with dinner. These easy savory scones are a mouthwatering version of classic sweet scones that are packed with flavor, with plenty of bacon, cheese, and tasty scallions. These rich, hearty scones are amazing with soups and salads, served with main dishes instead of rolls, or as a fantastic lighter breakfast. Pop them in packed lunches or keep them on hand for a mid-afternoon pick-me-up that will keep you full and leave your taste buds satisfied.
What are Scones?
Scones are delicious baked goods that can either savory or sweet. The typical scone has eggs and will be a little denser than biscuits, which have a flakier, more buttery texture.
How to Make Easy Savory Scones
Making a savory scone is easier than you may think. In a bowl, start by combining flour, salt, baking powder, and sugar, then add the milk and mix until crumbly. Whisk in the cheese, spring onions, bacon, and heavy cream, one tablespoon at a time. Now it's time to roll the dough on a working surface until you get 8 wedges. Brush them with cream, bake for less than 25 minutes and serve.
What to Serve with Easy Savory Scones
Savory scones are a wonderful side dish to serve with dinner, as an appetizer, served with soup, or as a savory snack at teatime. Cut your scones in half and top them with a slice of mozzarella, tomato, and basil, or enjoy them with a generous pat of butter. They're fantastic at breakfast or as a hearty alternative to a grilled cheese sandwich.
Tips for Making the Best Savory Scones
– You can use an egg wash instead of cream to help brown the scones.
– Leave some larger chunks of butter when mixing the dough.
– Use sharp cheddar for a more intense flavor.
Savory Scone Variations to Try
– Instead of spring onions, try fresh chives in your savory scones or pancetta instead of bacon.
– Try mixing different cheeses into your scones. Gouda, Gruyère, goat's cheese, and blue cheese are all excellent options.
– Skip the bacon to make a vegetarian savory scone, or use non-dairy cheeses and oil for a vegan version.
– Gluten-free savory scones are super easy to make. Just swap all-purpose flour for your favorite gluten-free alternative. Oat, almond, and buckwheat are a delicious base for your savory scones.
– For a tangier flavor, substitute buttermilk for cream.
– To avoid dry scones, don't overmix the dough. Mix the ingredients until they're just combined into a shaggy dough.
How to Store Savory Scones
Store leftover scones in an airtight container in the fridge. They'll stay fresh for 5 to 7 days.
Instructions
Preheat your oven to 425°F. Line a baking tray with parchment paper and set it aside.
In a large bowl, combine flour, salt, baking powder, and sugar.
Add the butter and mix until the dough takes on a crumbly texture.
Add in the cheese.
Add the bacon.
Whisk in the spring onions.
Add the heavy cream and mix it into the dough.
If the dough won't come together, add a little more cream, one tablespoon at a time.
Turn the dough out onto a lightly floured surface. Roll the dough out into a 3/4-inch thick disk. Place the dough on the baking tray.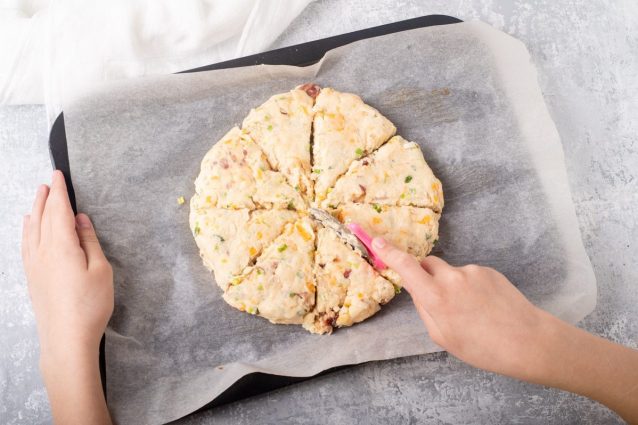 Cut it into 8 wedges.
Brush the scones with cream, then bake for 22 to 24 minutes, or until golden brown.
Remove the scones from the oven and let them cool slightly before serving.
Notes
Use a sharp knife when cutting the dough into wedges for clean, even cuts.