ingredients
Russet potatoes

2 large

Butter

4 tbsp

• 717 kcal

Milk

1 1/2 cups

• 49 kcal

Garlic powder

1 tsp

Flour

3 tbsp

Black pepper

1 tsp

Grated cheddar cheese

1 cup
Calories refers to 100 gr of product
This is the best scalloped potatoes recipe you can find. Creamy, tasty, cheesy, it can be prepared for a special lunch or to accompany meat dishes.
You obviously need potatoes – we recommend russet potatoes – butter, milk, garlic powder, flour, black pepper and cheddar cheese.
This dish can be paired with anything from chicken to fish. After making a creamy cheese sauce from scratch, the sauce is poured over thinly sliced potatoes and baked until the top is a beautiful golden brown. Scalloped potatoes make a hearty side dish which is great in the winter- warm, cheesy potatoes? Who could resist!
How to make scalloped potatoes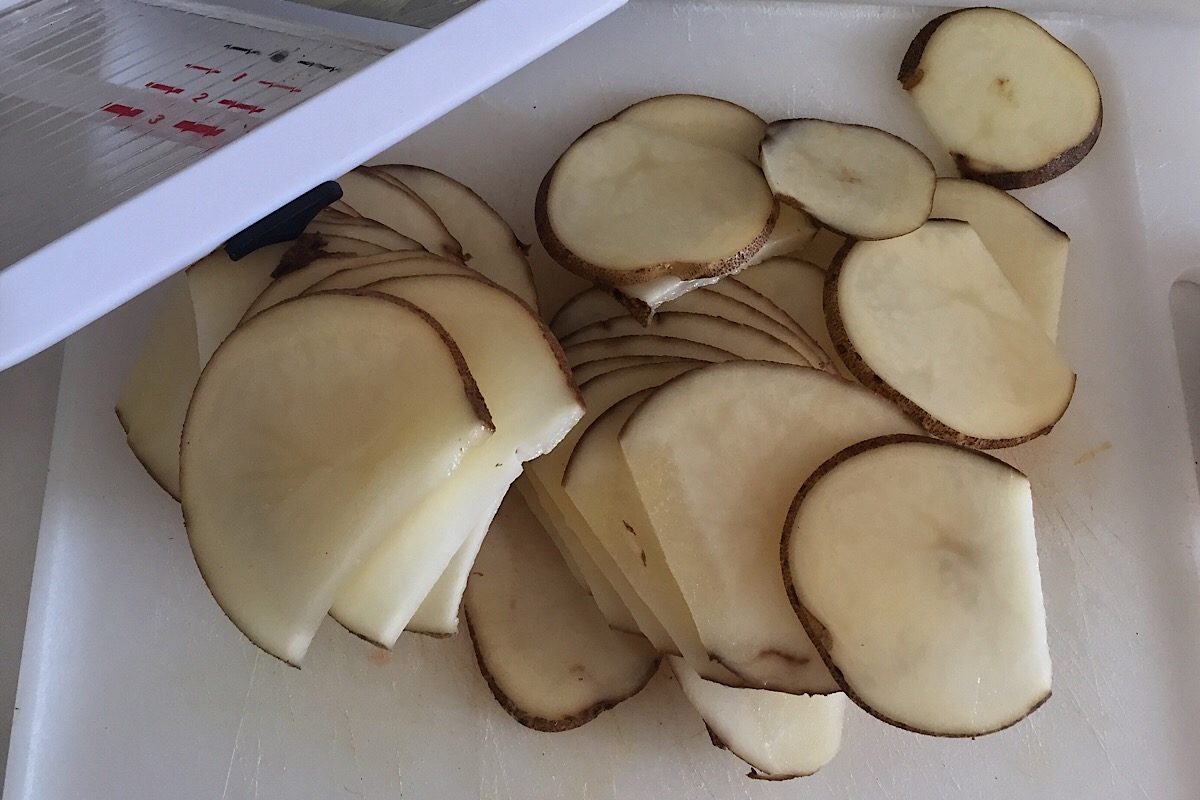 Slice thinly the potatoes with a mandolin or a sharp kitchen knife. Set aside for now
Add the butter to a small saucepan and melt. Whisk the flour into the butter and let cook for about a minute or until it begins to turn slightly brown.
Whisk the milk into the saucepan and allow the mix to come to a boil, whisking constantly.
Add the cheese to the milk mixture and whisk until all the cheese is melted in. Turn the heat off and set the sauce aside.
Place a layer of potatoes in the bottom of a casserole dish, slightly over lapping.
Pour a tiny bit of cream sauce on top of the potatoes in the dish.
Add another layer of potatoes on top of the first and again add a tiny bit of the cheese sauce.
Continue layering the potatoes and cheese until you reach the top of the casserole dish. You should have used all of the potatoes and all of the sauce.
Bake in a 350 ̊F oven for 25-30 minutes or until the sauce is bubbling around the edges and the top is golden brown. Serve while hot!
Instructions
Preheat the oven to 180 ° C (350 ° F).
In a small saucepan, melt the butter and fry the garlic until it starts to brown. Add the flour, salt and pepper. whisk until there are no lumps.
Slowly drizzle into the milk as it whisk continuously to make sure the mixture is smooth.
Bring to a boil, then remove.
Cut the potatoes into thin slices.
Pour a tiny bit of cream sauce on top of the potatoes.
Bake in a 350 ̊F oven for 25-30 minutes.
Serve it.
Tips
-Russet potatoes are the best type of potatoes to use for scalloped potatoes. Russets have the highest starch content of all the potatoes and therefore make the creamiest sauces. Yukon potatoes will also work well if russets are not available.
-Try using swiss cheese, parmesan or gruyere in this recipe for a new taste in your scalloped potatoes.