ingredients
Eggs

2

• 130 kcal

Shrimps

Chives

black sesame seeds

Salt

• 1 kcal

Carrots
Calories refers to 100 gr of product
Looking for a quick and easy meal that you can serve for breakfast, lunch, and dinner? In Western cuisine, eggs are considered a staple for breakfast. But in Asian cuisine, eggs can be added to many meals and are often enjoyed at lunch and dinner. This shrimp omelet is a great way to get a high-protein meal for any time of the day!
It's easy to customize the recipe as you want. To make it, you simply whisk the eggs with fresh carrot, chives, and seasoning, and add it to the shrimp. Cook and enjoy! The shrimp flavor is spot-on and also adds just the right amount of texture. It's the perfect fuss-free breakfast, lunch, and dinner!
How To Make Shrimp Omelette
There is very little prep involved to make this Shrimp Omelet. First dice the carrots into small pieces, making sure they're equally sized. Mix with the eggs, chives, and seasoning and whisk to combine.
Place the shrimp in a pan over medium heat. Pour the omelet mixture on top and cook until the eggs are fully cooked through.
Tips
While you can add water or milk to the mixture, it's best to leave them out as they could make the omelet watery.
Don't overcook the shrimp, otherwise, they will become rubbery!
To prevent the omelet from burning before it's completely cooked, keep the heat on medium.
Feel free to add fresh herbs like basil, oregano, cilantro, or parsley. Add soy sauce for extra flavor.
Shrimp Omelette Variation
Here are a few Shrimp Omelet versions you can try:
Thai: add ground pork, light soy sauce, and oyster sauce.
Chinese: use red onion (chopped), soy sauce, and shrimp
Japanese: make a rolled omelet with shrimp and scallions
How To Store Shrimp Omelet
The shrimp omelet can be stored in the refrigerator for up to 5 days. Make sure to store them in an airtight container so that they do not absorb any odors in your fridge.
You can also freeze them. Allow to cool, and wrap tightly in plastic wrap or airtight Ziploc bags. Store in the freezer for up to 3 months.
When you reheat them, don't heat them up too quickly as the eggs might split. You can reheat the shrimp omelet in the microwave (50% heat), oven, or stovetop.
What To Serve With Shrimp Omelet?
Serve it with a side of rice and dinner can be ready in less than an hour!
More Recipes You'll Like
Instructions
Cut the carrot into very small pieces.
Add the carrots to a bowl, together with the chives, egg, salt, pepper.
Use a whisk to mix everything very well.
Whisk until smooth.
Place the shrimp on a pan over medium heat.
Cook the shrimp for a few minutes.
Pour over the egg mixture.
Add black sesame seeds and cook.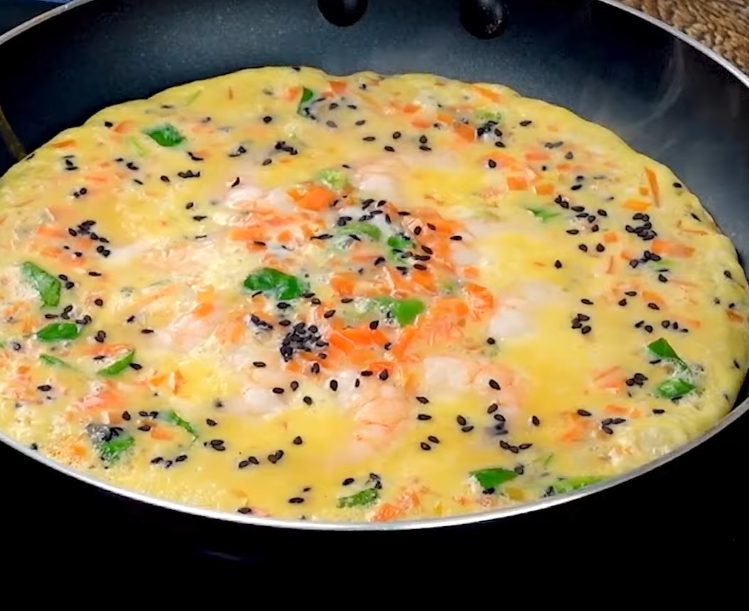 Continue to cook until the egg is no longer runny.
Slice and serve!
Notes
If you're making this for vegetarian diners, you can leave out the shrimp and add more vegetables like cooked mushrooms, red peppers, or onion.