ingredients
Shrimps

500 grams

Lemon

1

Sandwich bread

4 slices

corn flour

2 tablespoons

Aromatic herbs

1 bunch

Extra virgin olive oil

as much as is needed

Salt

as much as is needed

• 1 kcal
Calories refers to 100 gr of product
Shrimps au gratin are a very tasty appetizer and they are really very simple to make. With delicate and precious meats, these crustaceans are passed in a rich and pleasantly aromatic breading, and finally baked quickly in the oven to obtain a crunchy and irresistible browning. Refined and effective, this dish can be served as a seafood entrée or, accompanied by a fresh seasonal salad, it can be transformed into a complete and light second course. Ideal for hot summer days, when you need something nutritious but you don't want a heavy digestion.
How to prepare the shrimps au gratin
Clean the shrimps: peel them and remove the dark filament of the intestine (1).
Collect the bread in a planetary mixer, add the corn flour and aromatic herbs and blend until you have some coarse breadcrumbs (2).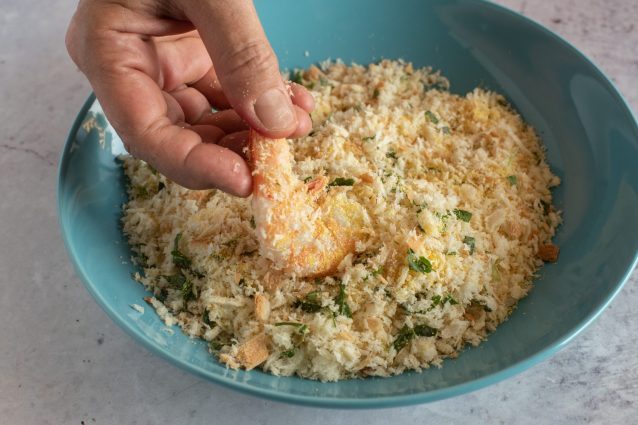 Pass the shrimps in the breading by pressing gently to make it adhere (3).
Arrange the shrimps in a pan. Slice the lemon and arrange the slices in the empty spaces between the shrimps (4).
Season with a drizzle of oil (5) and then cook in the oven at 200 degrees C for about ten minutes, with the grill on, until they are golden brown.
After cooking time has elapsed, take the shrimps out of the oven, add salt and serve hot (6).
Preservation
Shrimps au gratin can be preserved in the refrigerator for a maximum of 1-2 days, closed in a special container with an airtight seal.