ingredients
Durum wheat semolina flour

400 grams

Water

220 grams (1 cup)

Cherry tomatoes

350 grams

Already shelled almonds

80 grams

Pecorino cheese

80 grams

Basil

1 tuft

Garlic

1 clove

Extra virgin olive oil

50 ml

Salt

as much as is needed

• 1 kcal
Calories refers to 100 gr of product
This type of Sicilian homemade pasta is a tasty and fragrant first course, typical of the Italian tradition. The protagonist of the recipe is a short pasta format, with a characteristic spiral shape, still prepared today by hand with great skill and speed by the Sicilian housewives. The dough, made with only water and semolina, is quickly rolled up on a knitting needle, so as to obtain a narrow and hollow in the center type of pasta, more or less long, perfect to accommodate the Sicilian version of the classic Ligurian pesto. A mix of intense and irresistible Mediterranean flavors, perfect to enhance this pasta and make any lunch absolutely unforgettable.
How to prepare the Sicilian homemade pasta
For the pasta: collect the flour in a bowl and pour the water (1), then start working the dough.
As soon as this has taken shape, transfer it to a work surface and continue to knead until you get a smooth and soft dough (2).
Detach pieces the size of a walnut from the dough and roll them out to form thin sausages (3).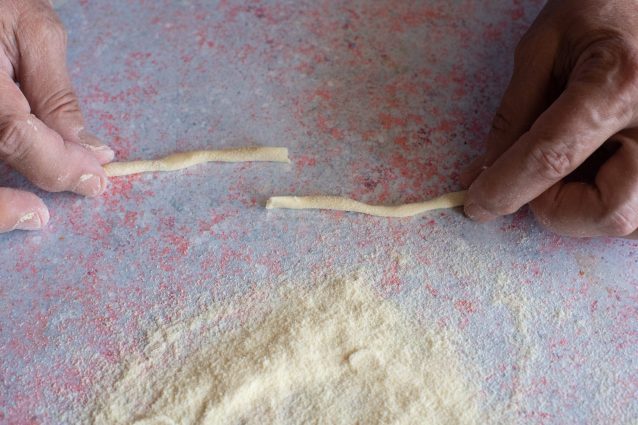 Remove pieces of about 6 cm in length (4).
At this point, roll them diagonally on the stick, until you get the characteristic helical shape (5). Let the dough dry on a sieve or tea towel for at least 30 minutes.
Meanwhile, prepare the pesto; wash the cherry tomatoes, cut the bottom crosswise and blanch them for a few minutes in boiling water (6).
Drain the cherry tomatoes, let them cool and remove the skin with the help of a knife (7).
Collect the cherry tomatoes in a container and add the pecorino cheese, almonds, basil, garlic and a pinch of salt; pour the oil (8) and start blending until you get a creamy and homogeneous pesto.
Boil the pasta in boiling salted water, then drain it al dente and season it with the pesto. Put it in the plate, sprinkle with a little pecorino cheese (9) and serve.
Preservation
Once prepared, the Sicilian pesto can be transferred to a glass jar, sprinkled with another drizzle of oil and preserved in the refrigerator for at least 4-5 days; alternatively, you can put it in paper cups (or in smaller jars) and freeze it in the freezer; in this way you will always have single portions of a good homemade pesto available. Just take it out of the freezer a few hours before use, boil the pasta and lunch will be ready in no time.