ingredients
Pumpkin

1 kg

• 250 kcal

Mozzarella cheese for pizza

350 grams

Grated parmesan cheese

100 grams

Cooked ham

150 grams

Rosemary

1 sprig

Flour

as much as is needed

Extra virgin olive oil

as much as is needed

Salt

as much as is needed

• 1 kcal

Pepper

as much as is needed
Calories refers to 100 gr of product
The smart pumpkin parmigiana is a simple and impressive preparation, which will surprise you with its ease of execution, amd for the soft consistency and the stringy heart. In this typically autumnal version, even more practical, the pumpkin is used raw, without the need to grill it, fry it or pass it previously in the oven. Once cut into slices, pumpkin is floured – to prevent it from releasing too much liquid during baking – and then stuffed in layers with mozzarella, grated parmesan cheese and cooked ham. The end result will be truly amazing and it will leave everyone speechless. Also prepare it in advance, as the rest will allow the flavors to blend perfectly, making it even more delicious, and serve it as a second course or main course to accompany a side of vegetables and a few slices of toasted bread. So let's find out how to prepare it following our recipe.
How to prepare the smart pumpkin parmigiana
Prepare the pumpkin; remove the skin and cut it into slices maximum 4-5 mm thick (1).
Pass the pumpkin slices in the flour, making it adhere well (2).
Arrange the pumpkin slices in a lightly greased pan, placing them well side by side as if they were lasagna sheets (3).
Spread the cooked ham over the pumpkin (4).
Cut the mozzarella into slices and lay them on top, then sprinkle with grated parmesan cheese (5) and add a pinch of salt.
Continue in this way, until all the ingredients are used up, ending with mozzarella cheese and grated parmesan cheese. Scent with rosemary, season with a drizzle of oil (6) and bake at 200 degrees C for about 35-40 minutes, until the pumpkin is soft and the surface is nicely au gratin.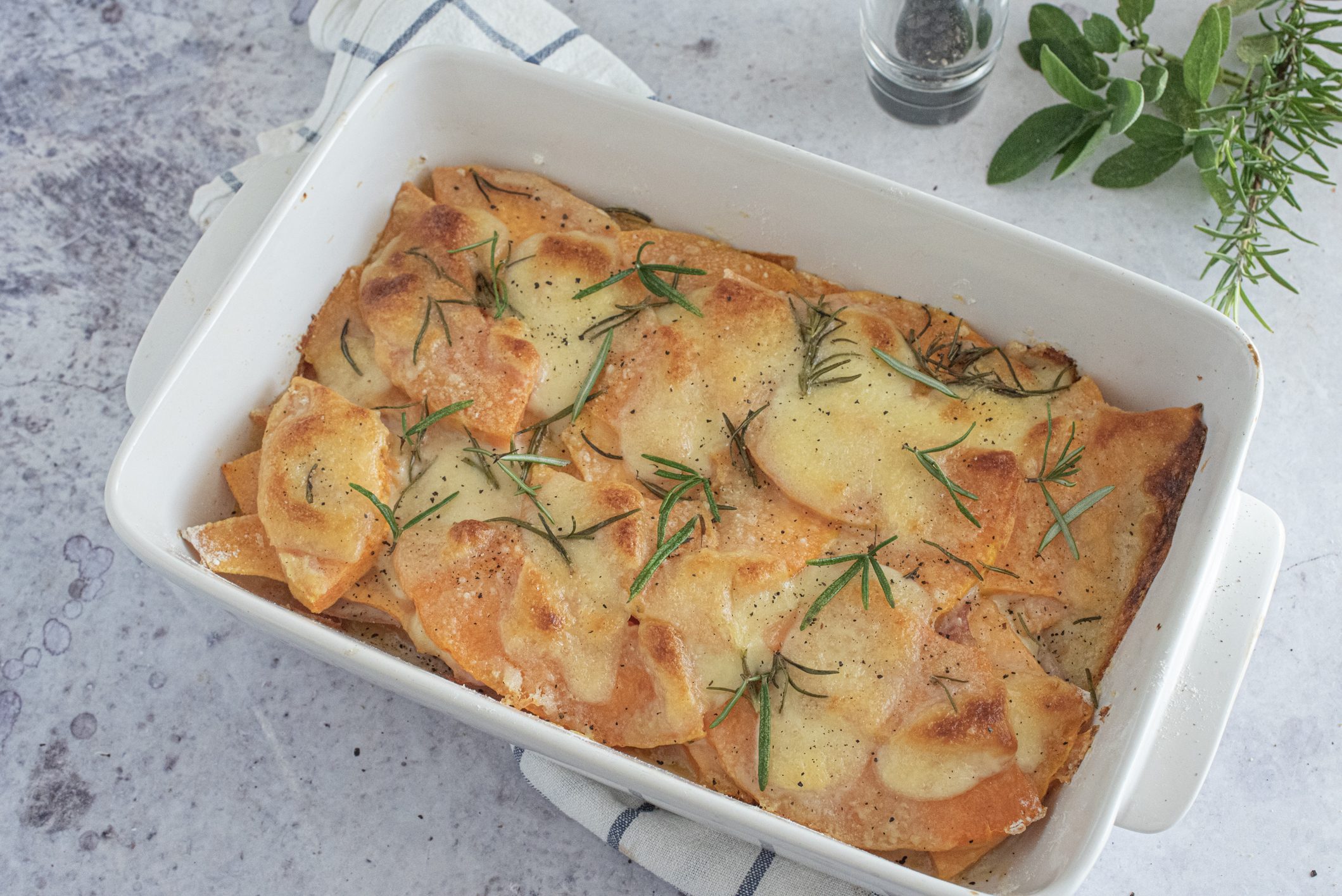 After the cooking time has elapsed, take out of the oven and let it cool, then finish with a grind of pepper and a little more rosemary and serve (7).
Preservation
The smart pumpkin parmigiana can be eaten hot as soon as you take it out of the oven, but it is even better if left to rest and cool, to allow the flavors to blend perfectly. In case there is something left, cover it with a sheet of cling film and preserve it in the refrigerator for another day at most; and at the moment of eating don't forget to heat it in the oven or in the microwave oven.