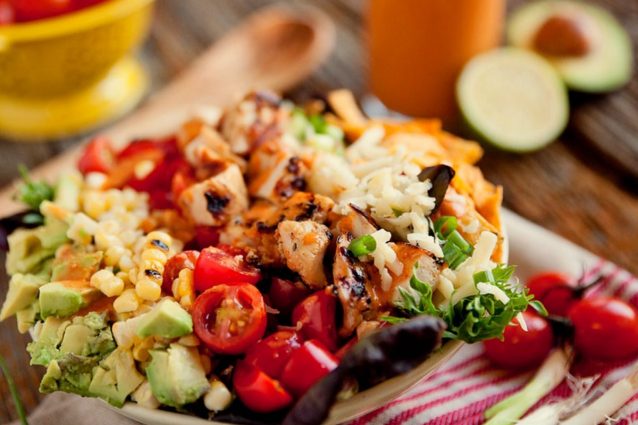 ingredients
Olive oil

1 tbsp

Onions

1/2 cup, diced

Chicken breasts

4 boneless, skinless

Tomatoes

1 cup diced

Black beans

1 can, drained and rinsed

Corn kernels

1 can

Cumin

1 tsp

Salt

1/2 tsp

• 1 kcal

Pepper

1/4 tsp
Calories refers to 100 gr of product
Not only is this chicken recipe low fat but it is also quick to prepare which makes it perfect for weeknight meals. Boneless chicken breasts are cooked with black beans, corn, tomatoes and just a few spices to bring out all the delicious southwestern flavors. Try serving this chicken with a simple side of rice or on top of mixed greens to make a healthy salad. If you like more spice, add some sriracha sauce to the chicken at the end of the recipe.
Dice The onions and fresh tomatoes. Set the tomatoes aside for now
Heat the oil in a large skillet and add the onions. Sauté the onions until translucent and soft.
Turn the heat up to high and place the chicken breast in the pan and sear on both sides.
Add the diced tomatoes, black beans and corn to the skillet and reduce the heat to low. Allow the mix to simmer for about 20 minutes or until the chicken breast is fully cooked.
Add the cumin, salt and pepper to the skillet and stir into the sauce.
Serve the chicken while hot along with a side of rice, quinoa or pasta.
Tips
-If you would like to add some extra spice to this recipe, dice up a jalapeno and add it along with the tomatoes, beans and corn.
-This chicken goes great when wrapped in a tortilla. If you have leftovers, try making a southwest chicken tortilla wrap for lunch the next day. Wrap the chicken by itself in the tortilla and eat cold or add some cheese and rice and make it a complete burrito!
-Canned tomatoes will also work well rather than fresh, diced tomatoes. Try using canned tomatoes with green chilies for even more southwestern flavor