ingredients
Clams

1 kilo

Spaghetti

400 g

Garlic

1 clove

Parsley

1 bunch

Extra virgin olive oil

Salt

• 1 kcal
Calories refers to 100 gr of product
Spaghetti with clams is a main dish of seafood typical of Italian cuisine best known as spaghetti alle vongole. It is an easy recipe loved and known everywhere for its tasty simplicity. The pasta is seasoned with a white sauce based on clams, oil, garlic and parsley, for a delicious result. Spaghetti with clams is a perfect dish for any occasion, for a family lunch, for a dinner with friends or for the party table.
It is an easy and quick preparation, but which can be also difficult. To avoid falling into mistakes, it is important to follow some simple precautions and to use the freshest ingredients of excellent quality. For an impeccable result, it is essential to keep the clams in their cooking liquid, drain the pasta al dente and continue cooking in a pan with the sauce, over high heat. So let's find out all the steps and tips of this recipe.
What are the best Clams to use for Pasta?
When you want to serve pasta with whole clams in their shells, it is best to prefer littlenecks or manilas clams. Another option is to also use smaller clams such as Egit that are just an inch in diameter.
How to serve Spaghetti with White Clam Sauce
Serve this spaghetti with clams with full-bodied white wine like Italians do.
Tips
It is best to use fresh clams for this recipe, so try to avoid canned clams. If you still want to, remember that canned clams don't need cooking once you open the package. You just need to add them to the pasta with the sauce.
If you love colorful, red sauces, enrich the clam sauce with some fresh cherry tomatoes which will make the pasta even tastier.
Discard any clams that are still closed.
For a spicy touch, you can add fresh or dried chili pepper to the sauté.
For a savory flavor, add an anchovy in oil to the cooking juices or some grated bottarga.
To thicken the cooking juices you can also add a teaspoon of cornstarch before adding the spaghetti.
How to store Spaghetti with Clams
Spaghetti with clams should be served immediately and cannot be stored or frozen.
How to make Spaghetti with Clams
The first thing to do, when buying clams that have not been purged, is to wrap them in a wet cloth or kitchen paper (1) and store them in the refrigerator until ready to use them.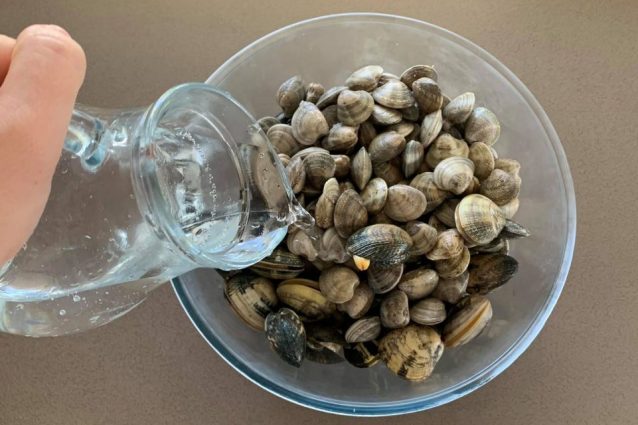 At this point, transfer the clams to a bowl and cover them with cold water (2).
Add a tablespoon of salt (3) and let them rest in the refrigerator for at least 2 hours.
In a large pan, brown the chopped garlic with a generous base of extra virgin olive oil and the parsley stalks (4).
Rinse the clams well under fresh running water, remove the broken ones, and pour them into the pan (5).
Distribute them evenly (6), cover with the lid and cook over high heat.
The clams will be ready when they are all open (7).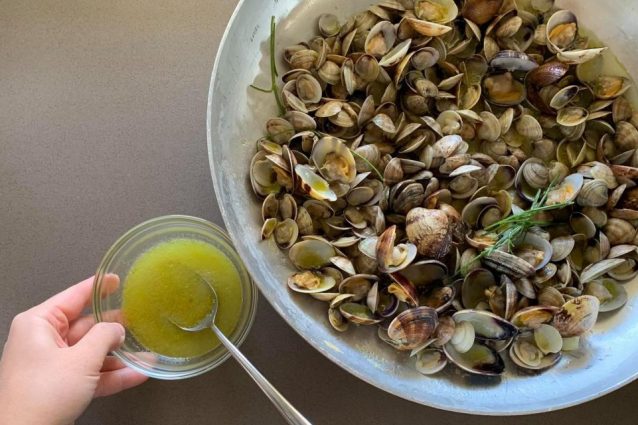 Take the cooking liquid, filter it and set it aside in a small bowl (8).
Shell almost all the clams (9), eliminating those broken or still closed.
Put all the shelled clams in their cooking liquid, so that they do not dry out of their shell and seasoning (10).
Continue in this way until you finish almost all the clams, leaving some aside with the shell for the decoration of the dishes (11).
Boil the spaghetti in plenty of lightly salted boiling water (12).
Drain them al dente and pour them into the pan with the sauce (13).
Cook the spaghetti for a few moments over high heat (14), add the shelled clams and their liquid.
Flavor with chopped parsley (15) and then serve.
Garnish the dish with the clams in their shells, a drizzle of extra virgin olive oil and fresh parsley (16), then bring to the table and serve.