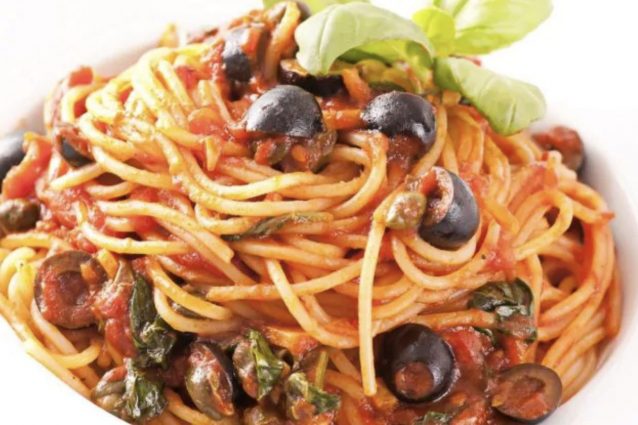 ingredients
Spaghetti

360 grams

Tomato paste

400 ml

Black olives (pitted)

150 grams

Capers

1 spoon

Garlic

1 clove

Extra-virgin olive oil

5 tablespoons

Salt

as much as it is needed

• 1 kcal
Calories refers to 100 gr of product


The spaghetti with olives and capers (Puttanesca) are a delicious and easy to prepare first course: just a few ingredients are enough to make a quick dish that will conquer everyone with its all Mediterranean goodness: tomato, black olives, capers and garlic, to which you can add a little of oregano, parsley or basil, to make them even tastier. The best recipe for those who have little time but want to prepare a truly irresistible first course.
Instructions

Pit the black olives, rinse them and put them aside. (1) Desalinate the capers by rinsing them in water (2) and drain them. Put a large pot on the stove with water and bring it to a boil. Meanwhile, heat the oil in the pan and brown the garlic. (3)
Then add the tomato paste, (4) a pinch of salt, and cook it for about 15 minutes over medium heat, covering it with a lid and turning it from time to time. Then add the olives and capers and continue cooking for another 10-15 minutes: the sauce should be thick and rich. As soon as the water begins to boil, add salt and pour the spaghetti. (5) Drain them "al dente" and sauté them in a pan with the sauce of olives and capers for at least a minute, so as to add flavor. Serve your spaghetti olives and capers hot. (6)
Tips
Instead of spaghetti you can also use linguine and substitute the tomato sauce with peeled tomatoes. Those who prefer can then add oregano or chopped parsley.
You can also prepare the sauce the day before or in the morning: keep it in the fridge, inside a tightly closed glass container, and heat it when you use it.
Alternatively you can also prepare spaghetti puttanesca, with the addition of chili pepper and perhaps some anchovies, to make the dish even more tasty.
How to store spaghetti puttanesca
You can keep the spaghetti with olives and capers in the fridge for 2 days in an airtight container.