ingredients
Fresh basil

100 grams

Extra virgin olive oil

30 grams

Almonds

30 grams

Salt

as much as is needed

• 1 kcal

Dried tomatoes

6

Almonds

as much as is needed

Spaghetti

300 grams

Swordfish

300 grams

Dried tomatoes

80 grams

Extra virgin olive oil

as much as is needed

Garlic

1 clove

Salt

as much as is needed

• 1 kcal

Chilli pepper

as much as is needed

White wine

as much as is needed
Calories refers to 100 gr of product
Spaghetti with swordfish and dried tomatoes is a very simple and delicious first course that can be prepared in a few minutes. The delicacy of swordfish – a light fish but rich in nutrients – is perfectly linked to the flavor of dried tomatoes; to this is added a basil and almond pesto that makes the dish creamy at the right point. A quick but tasteful preparation, perfect for when you have little time to cook. So let's see how to prepare spaghetti with swordfish and dried tomatoes.
How to prepare spaghetti with swordfish and dried tomatoes
Quickly prepare the basil pesto by inserting the leaves with the parmesan cheese, extra virgin olive oil, almonds, salt and pepper into the blender (1).
Blend until you get a creamy and homogeneous consistency (2).
Prepare the dried tomato powder by placing the dried tomatoes in an oven preheated to 220 degrees C for at least 15 minutes in an oiled pan (3).
Dry the tomatoes as soon as they come out of the oven with absorbent paper then put them in the food processor together with the almonds (4).
Cut the swordfish into cubes, taking care to remove the skin and the central spine (5).
Cook the spaghetti in abundant salted water following the package directions for al dente cooking (6).
Fry a clove of garlic in a pan sprinkled with oil (7).
Add the swordfish and after a few minutes simmer with white wine until reduced (8).
Then add the chopped dried tomatoes, chilli pepper and pepper (9).
Stir the pasta on the stove turned off with the preserved cooking water; now you just have to add the basil and almond pesto and mix (10).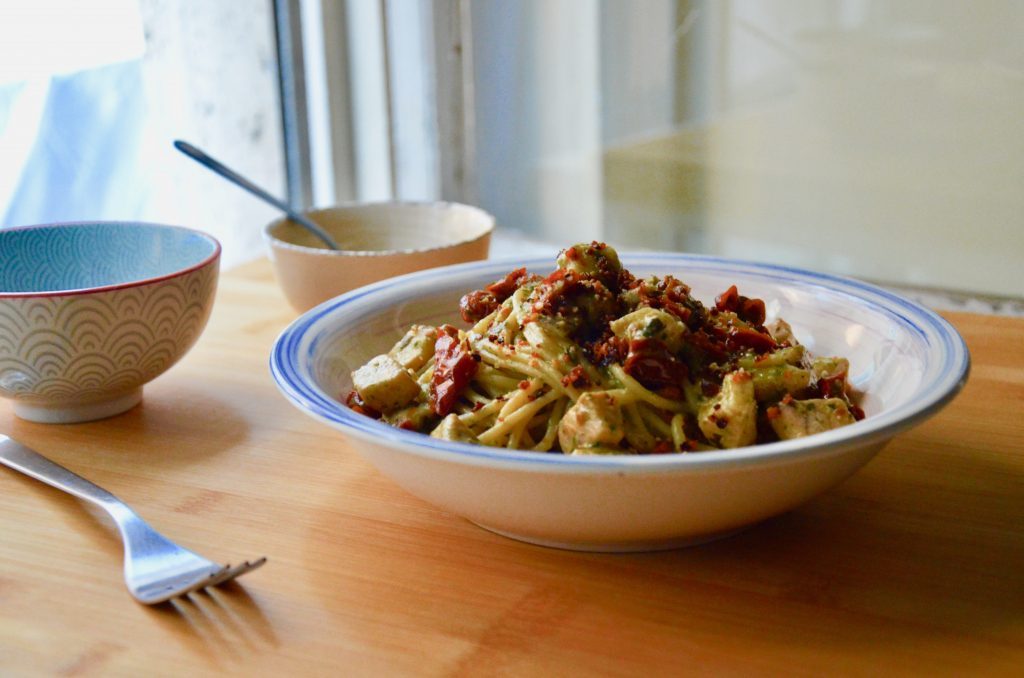 Serve the spaghetti hot, sprinkling the surface with the dried tomato powder and a drizzle of oil (11).
Preservation
You can preserve spaghetti in the refrigerator, inside an airtight container, for up to 24 hours. To consume them again, heat a pan and sprinkle with a little water to prevent the spaghetti from sticking.