ingredients
Rice

320 g (almost 2 cups)

red radicchio

100 g

speck strips

100 g

taleggio cheese

150 g

Vegetable broth

about 1 liter (4 ¼ cups)

Shallot

1

walnut kernels

Extra virgin olive oil

salt and pepper
Speck and taleggio cheese risotto is a tasty and energizing main course, perfect for a winter Sunday. The pleasantly bitter taste of red radicchio, a typical vegetable of this season rich in numerous beneficial properties, perfectly matches the sweetness of taleggio cheese and the sapidity of speck strips, for a creamy and refined result. The final addition of walnut kernels will give the dish a pleasant crunchy note. It's a versatile and very simple recipe to prepare you can serve for a dinner with friends or an informal family lunch. Follow our tips for a creamy dish and our recipe step by step, so you will make a perfect speck and cheese risotto.
How to make Speck and Cheese Risotto
Clean the red radicchio and cut it into thin strips (1).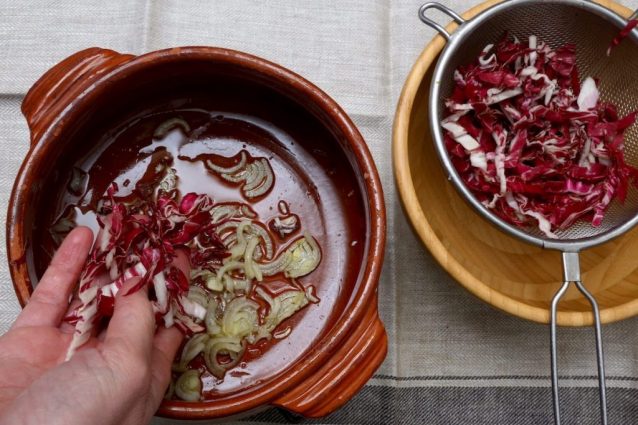 Chop the shallot and brown it in a saucepan with a drizzle of extra virgin olive oil; add the red radicchio strips (2), stir and let flavor for a few minutes.
Add the speck, cut into strips (3), season with salt and pepper and brown lightly.
Pour in the rice (4), stir and let it toast until the grains become translucent.
Pour a ladle of hot broth (5) and cook the risotto, adding more as it is absorbed; it will take about 15-16 minutes.
When the rice is cooked but still slightly al dente, turn off the heat, add the diced taleggio cheese and the coarsely chopped walnuts (6), and stir carefully.
Season with a sprinkle of pepper and serve this speck and cheese risotto immediately (7).
How to store Speck and Cheese Risotto
Speck and cheese risotto can be stored in the refrigerator, in a special airtight container, for a maximum of 1-2 days.