ingredients
For the shortcrust pastry

Flour type 00

300 gr (2 ⅗ cups)

Egg

1

• 130 kcal

Granulated sugar

150 gr (3/4 cups)

Cold butter in small pieces

100 gr (1/2 cups)

Vanilla Extract

1 tsp

Lemon

1

Fine salt

a pinch

Baking powder for cakes

1 tsp
For the filling

custard

350 gr

Fresh strawberries

300 gr
Calories refers to 100 gr of product
The strawberry and custard crumble cake is a rich and good looking dessert, a fresh and fragrant alternative to the classic strawberry crumble cake. It looks like a chest of shortcrust pastry that contains a soft and fragrant filling of custard and fresh strawberries. The shortcrust pastry crumbs, swelling slightly during cooking, will give the cake crunchiness, in pleasant contrast with the melting heart. Perfect for any occasion, from a dinner with friends to a birthday party, this cake is simple and very easy. It can also be made the day before and stored in the refrigerator until it's time to bake. So let's find out how to make it by following our recipe step by step.
How to make Strawberry and Custard Crumble Cake
Prepare the shortcrust pastry. In a large bowl put the type 00 flour, granulated sugar, egg, cubed cold butter from the refrigerator, baking powder, vanilla and fine salt (1).
Start kneading quickly with your fingertips (2), to compact the ingredients and obtain a coarse and crumbly mixture.
Work for a few more minutes, until you get a very soft shortcrust pastry (3).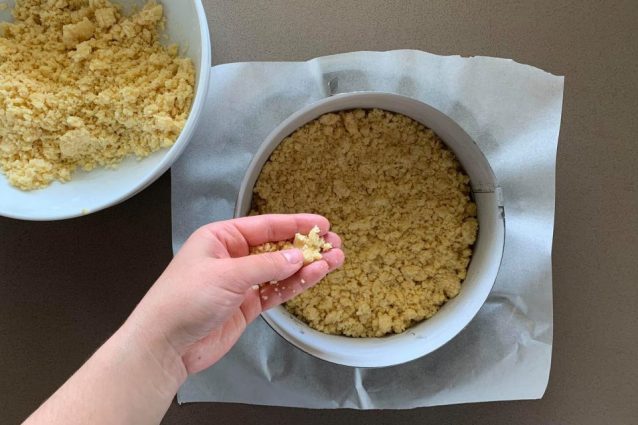 Grease and flour a springform pan and distribute half of the crumbs inside, pressing them lightly to form the base (4), with edges 2-3 cm high.
Pour the custard and spread it well with a spoon (5).
Wash the strawberries, dry and cut them into cubes; distribute them over the custard (6).
Sprinkle the surface with the rest of the crumbs, which must completely cover the strawberries and the base (7).
Bake the cake at 180 degrees C and cook for about an hour. After the cooking time, take it out of the oven and let the cake cool completely. Take it out of the mold, transfer it to a serving dish and serve (8).
Tips
– We recommend using a 20 centimeters diameter mold, preferably hinged and with a removable bottom, this will make it easier to take out the cake and prevent it from breaking. If you prefer, instead of butter and flour, you can line it with a sheet of parchment paper.
– Make sure to use cold ingredients, especially the butter. It is necessary to work them quickly and with your fingertips, to prevent the pastry from becoming a compact and not crumbly mass when heated.
– Fill the base with the very cold custard and, if possible, let the cake rest in the refrigerator for several hours before cutting it, even better if the next day. The final result will be even more compact.
– You can customize this dessert as you want with some variations. You can fill your crumble cake with a delicate lemon cream, a mascarpone cheese one, or a whipped cream. On the other hand, if you want to make it light, you can prepare a filling based on ricotta cheese or plain Greek yogurt.
– You can also add other red fruits to strawberries, such as raspberries, cherries and currants; or you can replace them with the seasonal fruit you love most.
How to store Strawberry and Custard Crumble Cake
The strawberry and custard crumble cake can be stored in the refrigerator, in a special airtight container, for 2-3 days; it is also possible to freeze it, both raw and cooked.